We're heading to the Fitzroy suburb of Melbourne in Australia and to Yarn + Cø, a genuine yarn emporium that was opened by Chris Hughes and Karen Voelske in 2013.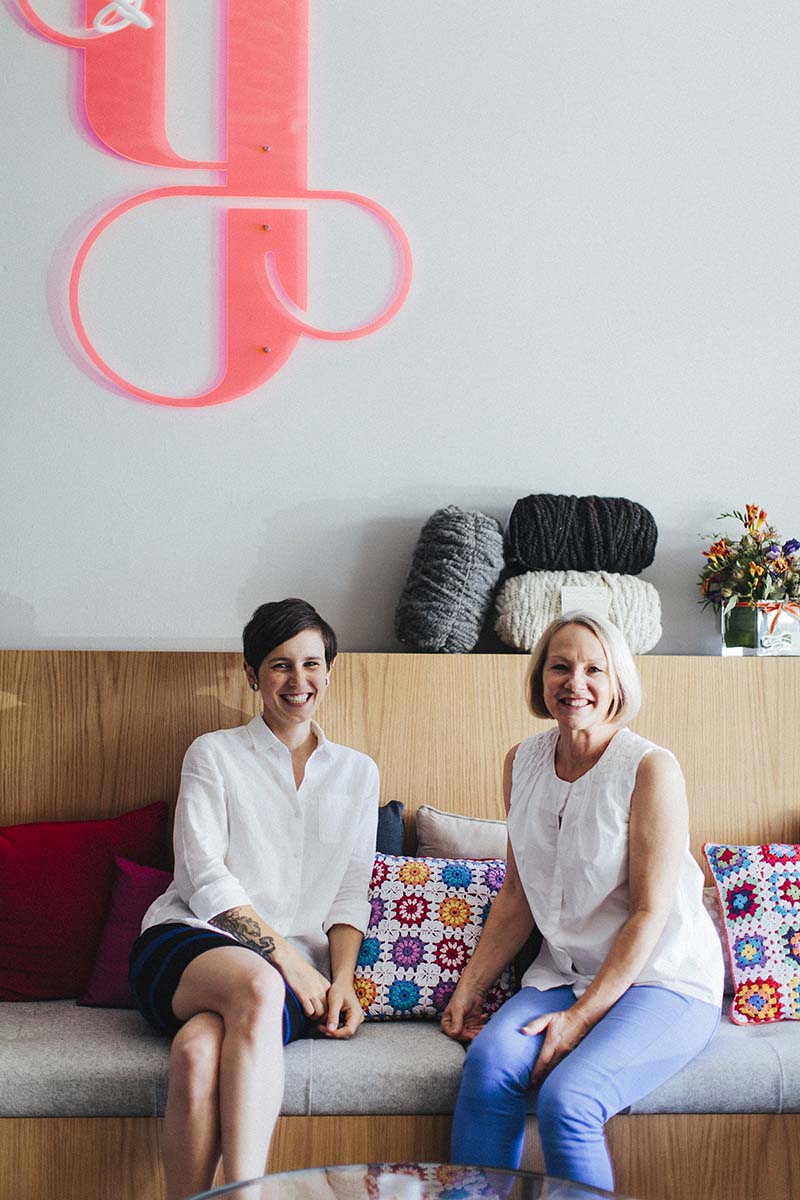 "We are passionate about yarn, knitting, crochet and all things related to craft," they say, "and we think this definitely shows in the store.  We wanted to create somewhere with a relaxed, friendly atmosphere – just the sort of place where we'd like to be!"
Yarn + Cø stocks lots of The Fibre Co. yarn, including Acadia, Meadow, Terra, Fingering and Worsted weights in Canopy and Cumbria and Lace and Light weights of Road to China.  They also host workshops although you need to book places quickly – the popular chunky double moss stitch blanket workshop tends to be fully booked within a few days of planned dates being announced.
Chris and Karen have put their heads together and recommended five places not to miss for anyone planning a visit to their part of Melbourne.  In fact, as you'll read below, they've managed to squeeze in a few more favourites than five!
·         Picnic and then eat an ice cream in the park – Fitzroy and neighbouring Collingwood are filled with little parks and lots of food options. Grab a Prosciutto roll from Alimentari and eat it in the Fitzroy Gardens – beautiful all year round – before finishing off your meal with an ice cream from Messina. So that's three recommendations in one!
·         Browse some vintage loveliness – Zetta Florence is a brisk walk from Yarn + Cø but worth the time to explore a store that's full of vintage cards, papers, ribbons and storage ideas for your precious knits.
·         Buy presents for small people – Abbotsford Knits stocks a range of hand-knitted children's wear, all designed and made by the owner – many of them with our yarns – and based in a shop just around the corner from Yarn + Cø.
·         Step back in time – even if you're not interested in men's shoes, Double Monk is worth a "stickybeak" through the window.  A wonderful shoe and boot shop that's all wood, leather and tradition and also a great place if you're struggling for gifts for men.
·         Make sure your coffee shot is one of the best – Burnside, on the corner of Smith Street and Gertrude Street, is Chris and Karen's favourite coffee stop.  "We visit Burnside pretty much every day for our caffeine hit – it's our local and they use locally roasted coffee beans too."
Chris and Karen's final recommendation is to ditch the guide book and walk around the city, exploring little lanes and independent shops and stumbling across lots of great food.  And, of course, if you do visit a few of these places as well as the store, please say Hello from The Fibre Co.