If December passed with you furiously knitting all the gifts in a complete frenzy to get everything bound off, wrapped and under the tree in time for Christmas, January is for you. Take a deep breath, pour yourself some tea and curl up for a month of indulgent knitting that's all about you. 6 inspirational knits for the New Year. Enjoy the meditative pleasure of stitches flowing off your needles and the comfort only a cosy pile of knitting sat in your lap can bring.
We've trawled Pinterest and Ravelry to highlight six indulgent knitting projects we would love to cast on this year.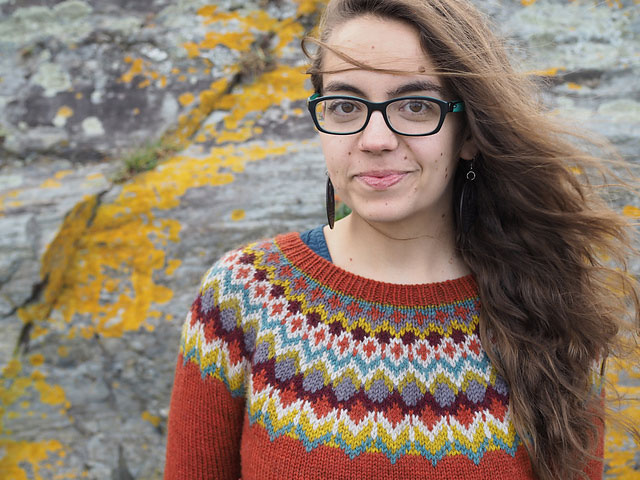 If you were at Rhinebeck last year you might have spotted designer Bristol Ivy in the Second Grace colourwork sweater she knit with The Fibre Co. Cumbria. Second Grace is a stunning pullover knit bottom-up with intricate colourwork yoke, cuffs and hem. Have fun playing with colour combinations or knit one just like Bristol. You can find all the colours she used here.
Looking to spice up your winter wardrobe? Add a dash of slipped stitches, eyelets, and nubbly garter stitch with Melanie Berg's generously sized asymmetrical triangle shawl from The Fell Garth Collection. Pick your favorite vibrant shade of The Fibre Co. Cumbria Fingering, a slightly heathered yarn with a plush rustic touch and feel from your local yarn store or browse the colour ways here.
This feminine pullover featuring undulating cables and a deep cowl collar is the sweater we dream of curling up in on these long winter nights. The cables are addictive and easier than you might think. Thea Colman has cleverly placed the cables in panels on the front and back to create flattering vertical lines on the body which also makes any modifications for fit and shaping simple to add. Knit using our Arranmore yarn, our cashmere and silk that's blended with a fine merino wool to create an authentic tweed yarn.
Designer Megan Goodacre knit this luxurious wrap with Acadia, our DK weight yarn, and large needles. Broad panels of herringbone lace are set off by gently branching columns of lace rib and garter stitch. Drape Boiseau across your shoulders and show off the open lace, or wrap it around your neck as a sumptuous scarf to highlight the textures of the stitch patterns.
Helga, designed by Emma Wright, is a dress for people who share our love for pockets in which to keep little souvenirs and the odd sweet or two. Knit using our worsted weight yarn Cumbria the dress (which can also be worn as a tunic) is worked flat and pieced together. Dressed up for drinks with the girls or layered over a long sleeve tee and boots for the school run we can definitely see this becoming a wardrobe staple.
When you don't have the brain space for cables or lace but still crave an indulgent knit that's all yours. Treat yourself to our luxurious Canopy Worsted and flake out at the end of each day with the feel of our alpaca blend flowing through your fingers as you mindlessly knit this classic top down cardi by Carrie Bostick Hoge
If we've tempted you to cast on something special for yourself but these don't quite take your fancy we have a brand new pattern section on our website where you will find some of our most popular patterns from The Fibre Co. design team and a selection of indie designer patterns for you to browse.
Oh, and don't forget, we're on Pinterest too. If you love pinning as much as we do why not jump over to see what we're pinning this week and follow us there? (We've even popped a little graphic just here below so you can pin easily from this post and save all six ideas for later. It's good to enable isn't it?)