If you look at the most popular patterns on Ravelry, you will notice that most of them have three things in common: they are interesting to knit, easy to wear and they feature a special detail that set them apart. In this interview, we speak with Brazilian knitwear designer Alice Caetano
Alice Caetano: Designer of "All Sorts of Things"
Alice Caetano is a Brazilian knitwear designer living in the Netherlands. She has been releasing knitting patterns for less than 18 months, yet she seems to nail this trio with every single design.
Her aesthetic is simple yet graphic, which makes total sense when you learn that she also works in the wider world of design; mostly graphic design, but illustration and motion graphics too. She also likes to sew and has recently been teaching herself how to draft her own clothing patterns.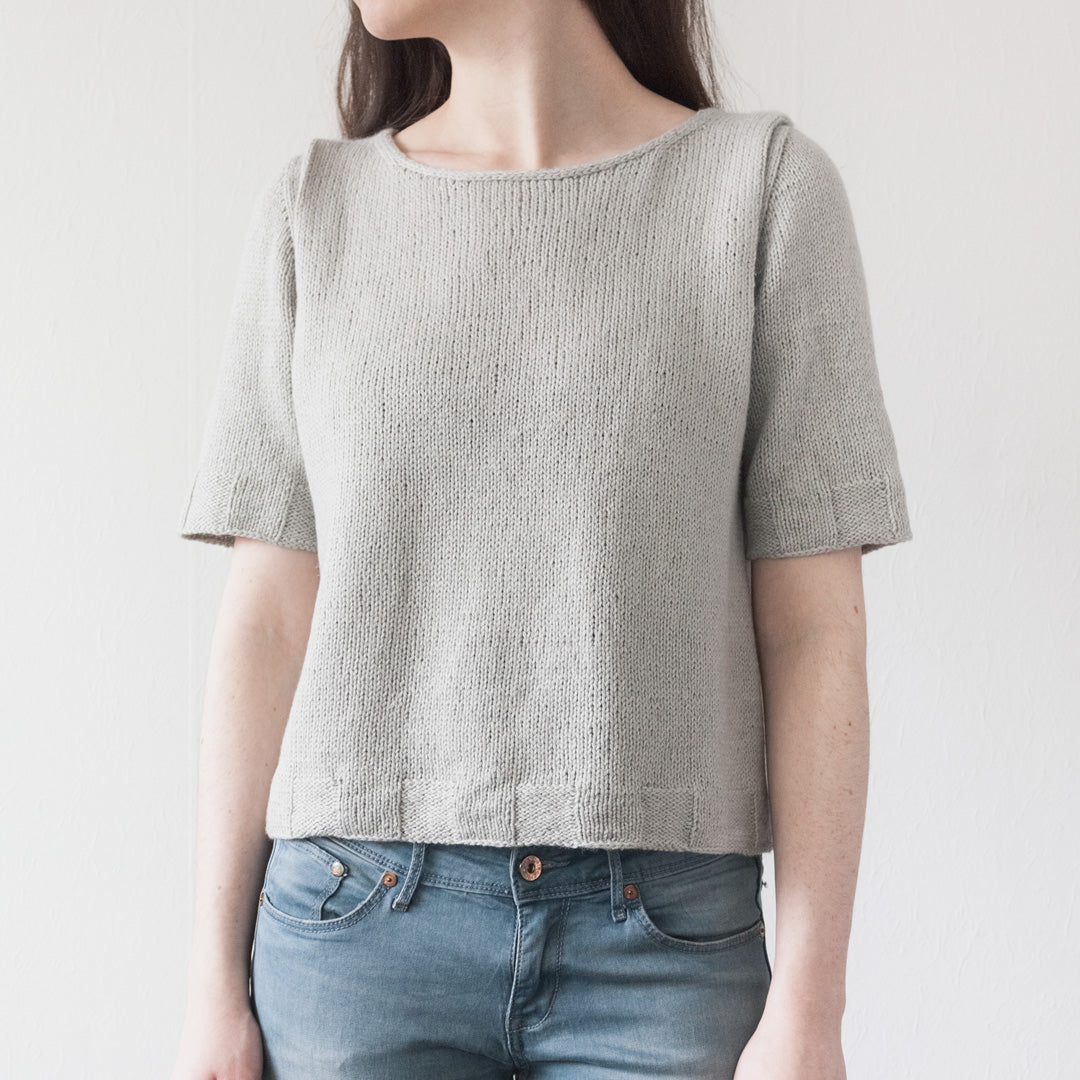 Verso: A Knitted T-Shirt Pattern by Alice Caetano
As she releases Verso, her latest t-shirt pattern as part of our Yarn Support Programme, we interview Alice about her design philosophy and the inspiration behind this collaboration with The Fibre Co.
"I like to design pieces with unique details that will still fit into many wardrobes. I want my knits to look unique and handmade – to me, this is something to be very proud of! At the same time, I want them to actually get worn and not be kept preciously on a shelf."
Form and Function
Wearability is important to Alice. Whether she's designing the garment or writing the pattern itself, form and function are high priorities. In every design, she tries to find the perfect balance between knitable and wearable.
And what could be more wearable than a classic t-shirt?
"I started off thinking about a simple white t-shirt and how it could inspire a knitted top. I added the pleats at the shoulders as an eye-catching detail. They also add some volume to the body while keeping it fitted over the shoulders."
This theme of form and function comes up again when I ask her about her favourite part of Verso.
"I feel like I should say the pleats because they're the stars of this design, but I just love the oversized rib at the hems! I like how it functions – keeping the tee minimal without adding bulk so that all the volume stays up at the pleats – and how it looks – the play on the scale of a regular rib makes it a quirky, fun little detail."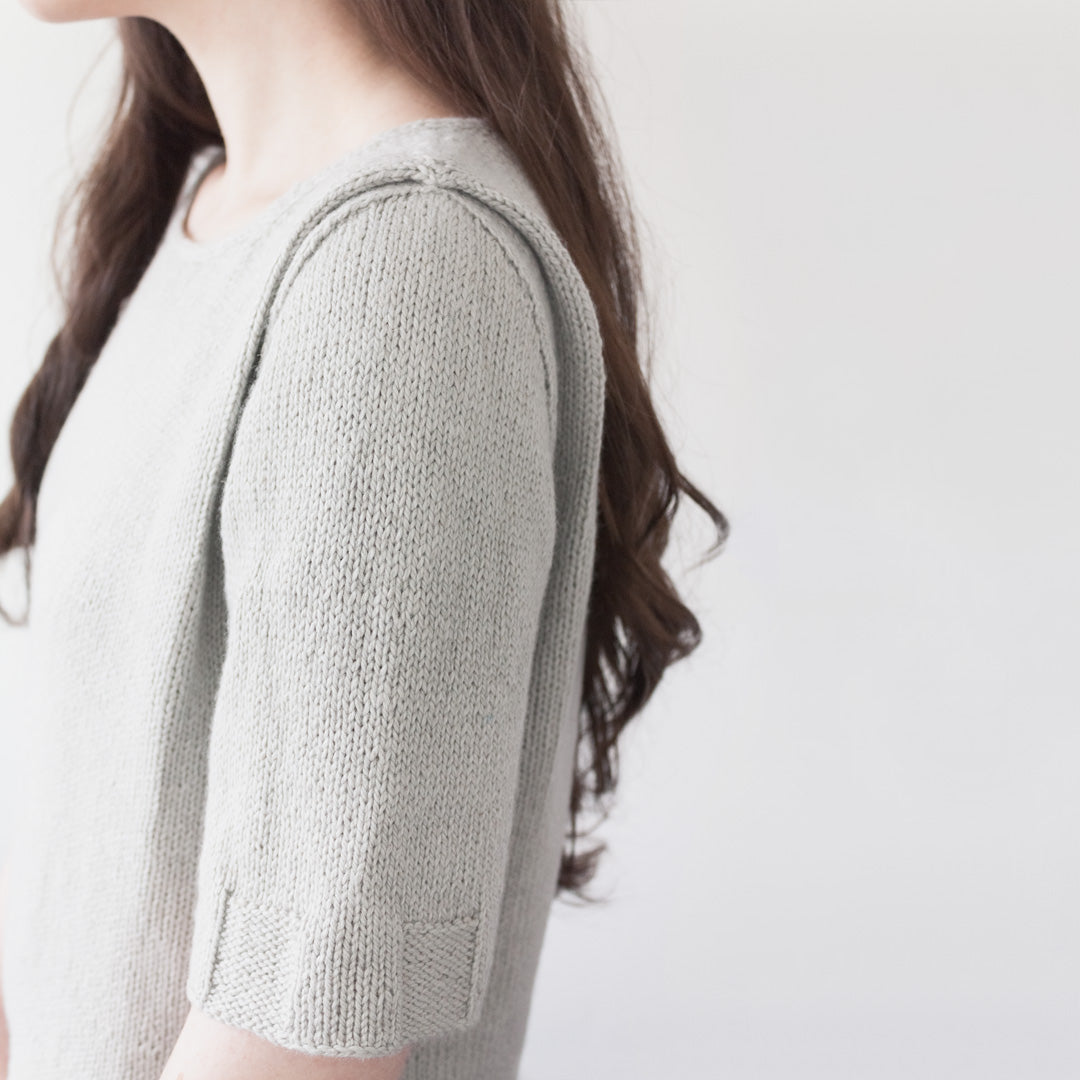 Working with Luma
Alice chose to work with Luma, which is a blend of wool, cotton, linen and silk that ticks all the boxes for this design!
"The cotton, linen and silk content gives the fabric a wonderful weight and drape, while the wool makes it easy and comfortable to knit with. The yarn also takes very well to steam pressing which makes the pleats extra sharp and crisp."
Alice's Top Tip
Whilst you don't need to be a crochet whizz, some basic crochet knowledge will help you when making this garment because the pattern uses slip and single crochet to assemble the pleats. Alice has provided an illustrated step-by-step tutorial for this section in the pattern to make it very easy for crochet novices.
---
You can pick up a copy of Alice Caetano's Verso pattern exclusively via WEBS. You can also learn more about Alice and her other patterns on Ravelry and Instagram. Details of your local or online Luma stockist can be found on the Stockists page.