L'Atelier
was born from friendship and passion. Alexandre and Thomas opened the first shop in 2006 in Paris and together, they opened a total of 3 shops in the city and surburban area. When Thomas moved to Lyon in 2014, he opened their fourth shop right in the heart of the city.
What knitters love about l'Atelier in Lyon is that they can find a wide range of knitting and crocheting yarns there, as well as a large selection of knitting books and patterns to get inspired. Recently, l'Atelier started retailing a pretty selection of The Fibre Company yarns: tweedy Arranmore Light, Luma and brand new Lore.
3 Things to do in Lyon, France if you Love Craft
If you are planning to visit l'Atelier de la Création in Lyon, there are lots of things that crafters can enjoy in the rest of the city too. Here are Thomas' favourite spots for a nice afternoon in Lyon!
Museum of Textiles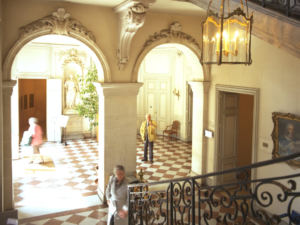 The Museum of Textiles (2nd district) is a museum entirely dedicated to fabric and fabric-making. This museum has gained worldwide recognition for the preservation, study and general knowledge of textiles. The goal of this museum is to preserve in Lyon the biggest collection of textiles in the world, so that history can keep on inspiring the Future.
34, rue de la Charité, 69002 Lyon
Jeannine et Suzanne
Sit down to knit while sipping tea and eating pastries at Jeannine and Suzanne's, an enchanting place that will bring back childhood memories of your grandmother's house.
34 Rue Sainte Hélène 69002 Lyon
Knit Eat
If you are lucky enough, you might be able to book your seat at the next "Knit Eat" event, which is a knitters' gathering that happens every 3 months or so in Lyon. This event (booking required) aims at gathering knitters in the same place to knit, chat and discover new yarns.
Event in Lyon
Visit the Atelier de la Création store in Lyon on Saturday 13th October 2018 at 2pm for the official launch party of Lore in France.
Join us to see the designs from the Borrowdale collection, as well as yarn tasting and contests. Designers Bérangère Cailliau and Marie Amelie Designs will be attending, along with Lise Tailor who will share their knitwear designs in Lore.
L'Atelier, c'est une histoire d'amis et de passion. Alexandre et Thomas créent l'enseigne en 2006 à Paris. Après l'ouverture, ensemble, de 3 boutiques en région parisienne, Thomas ouvre la 4e boutique en plein coeur de Lyon en 2014.
Situé près de l'Hôtel de ville dans le 1er arrondissement, la boutique est un espace consacré aux loisirs créatifs : couture, tricot, perles, mercerie. On aime y flâner pour découvrir les nouveautés et rêver devant le mur entier de boutons à coudre.
Les tricoteurs de Lyon aiment trouver à l'Atelier un grand choix de fils et de matières pour leurs prochains ouvrages de tricot ou de crochet mais également tout le matériel nécessaire, des livres et des modèles de tricot pour s'inspirer. Depuis cette année, L'Atelier propose une jolie sélection de fils The Fibre Co : le fil tweedé Arranmore Light, Luma et le tout nouveau fil Lore.
Après être passé à la boutique, continuez à visiter la ville. Voici les coups de coeur de Thomas pour passer une jolie après-midi à Lyon :
Le Musée des Tissus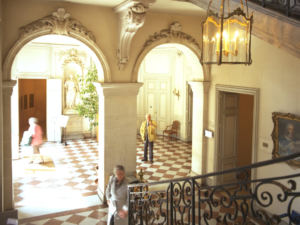 Visiter le musée des tissus (Lyon 2e) : un musée entier dédié à la production textile ! Le musée est devenu une référence mondiale pour la conservation, l'étude et la connaissance textile. L'objectif du musée est de conserver à Lyon la plus importante collection de textiles du monde afin que les meilleurs exemples du passé puissent renouveler la création de demain.
34, rue de la Charité, 69002 Lyon
Jeannine et Suzanne
Tricoter et boire un thé chez Jeannine et Suzanne autour d'une bonne patisserie.
Un lieu plein de charme qui nous rappelle la maison de nos grands-mères. https://www.jeannine-suzanne.com/
34 Rue Sainte Hélène 69002 Lyon
Knit Eat
Si vous avez de la chance, vous pourrez peut-être vous inscrire au prochain 'Knit Eat', ce rassemblement de tricoteurs de la région qui a lieu tous les 3 mois environ à Lyon. La journée (sur inscription) propose de se réunir pour tricoter, papoter et découvrir de nouvelles laines.
Événement à Lyon
Rendez-vous à la boutique l'Atelier de Lyon le samedi 13 octobre 2018 à 14h pour le lancement officiel du fil Lore de The Fibre Company.
Rencontres et partage autour des modèles de la collection Borrowdale, yarn testing et concours, en présence de les créatrices Bérangère Cailliau et Marie Amelie Designs ainsi que Lise Tailor qui partageront avec nous leur modèle tricoté en Lore.
---
Free Knitting Pattern
Get a Ravelry coupon to choose 1 of 5 free knitting patterns when you sign up to our newsletter.
You will also receive weekly emails on your favourite yarns, brand new pattern releases and exclusive offers we don't share anywhere else.