Béatrice Mase is a French designer living in Le Havre with her family. She is a 3D graphic designer by day and dedicated knitting designer by night. We were excited to chat with Béatrice about Milk Thistle, her contribution to the Alamanc Series, as well as about her knitting work and inspiration.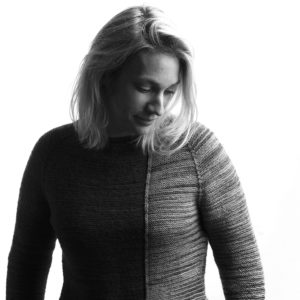 Could you tell us a bit about yourself: how did you get into knitting and designing knitwear?  
BM: I've always been a maker. Even as a child, I drew, created models, sewed, embroidered; I was very crafty. Years later, my friend Pauline and I were both pregnant and she said to me: Let's knit baby clothes, why don't we?
I started knitting seriously a few years later, thanks to my friend Anne–without her friendship and support I wouldn't be a knitting designer today. I was hooked for good and I've never stopped knitting since then.
I studied object designing. I've been working as a 3D designer since my twenties. I've designed coffee makers, armchairs, and such. So when I designed my first pattern, I could rely on a lot of skills that proved useful.
I started designing because I'm a maker, that's who I am, and once I understand a new knitting technique or construction, how it's done, I want to use it to create what I have in my own mind.
The Almanac Series is based on the original farmer's Almanac guide to the seasons, this collection acts as a seasonal guide to knitting with The Fibre Co. and celebrates each month of the year with an ascribed Yarn of the Month, paired with a new design launch in that yarn. This year's series has a theme of herbalism. In the first half of this year's series, we cover the Autumn Winter season, where each month's yarn has been specifically chosen for its qualities to compliment colder conditions in the northern hemisphere.  Milk Thistle was launched this November, in the Yarn of the Month, Cumbria Fingering.
The shawl is a textured kite-shaped design featuring a unique flower motif. The sample is knit in the shades Scafell Pike, Fair Hill and Blackbeck and has been designed so that each shade has a different stitch pattern; garter and stockinette stitch in Scafell Pike, herringbone stitch in Fair Hill and a stunning flower stitch in Blackbeck.
Tell us about Milk Thistle—what makes it special to you?
BM: For this shawl, I was first inspired by the ginkgo flower (I'm fascinated and influenced by Japanese culture: movies, lifestyle, cooking and books). I had a bookmarker in the shape of a ginkgo flower  – a present from a Japanese friend. The bookmarker is always between the pages of the book I'm reading. I love Murakami. My first design is a brioche blanket named after him: Haruki. And I've always wanted to knit this ginkgo motif on a shawl.
What inspires and influences your designs?
BM: My patterns all have a Japanese name. Japan is my first influence.
What is your favourite type of knitting project?
BM: I'm a shawl knitter. Shawls allow you to experiment a lot of techniques and colours.
Could you share your design process with us.
BM: A shawl is a shawl but I always try to create a design with a twist, something unexpected, in the shape, or the way of styling it, or in an association of stitches. I hope, in sharing my designs, that if it keeps me interested other knitters could like it too.
How does the yarn you use influence your design?
BM: The colours will structure my design and tell me what I should make with the yarn. I knew the blue would look great on a background of pale grey and would structure the whole shawl. That's why I've used it for the flowers and the stems.
What is your favourite knitting technique and why?
BM: My favourite knitting technique is brioche. Easy question ! I enjoy knitting brioche. It knits smoothly. I like the rhythm of knitting brioche, the relaxed way my hands and needles move. I also like associating colours.
What is your desert island knitting project—what could you knit again and again and still enjoy?
BM: I will never tire of knitting shawls. My desert island project would be a shawl, featuring brioche!
What's your first knitting memory?
BM: My grandmother was a knitter and she made me a yellow jumper with matching yellow duck-shaped buttons. I was probably six then. It's my first knitting memory.
Milk Thistle is available as a pattern or kit and is available from our website now. Or ask in your LYS for Cumbria Fingering.
If you are knitting a Milk Thistle, please do share it with us! We would love to see it. If you are sharing on social media, please use the hashtags #MadeWithTheFibreCo and tag us @thefibrecompany so we don't miss it!