Recently, we launched six additional colours in our DK weight, Romney yarn, Lore, and we're very happy to share them with you on the blog today.
Six New Colours in The Fibre Co. Lore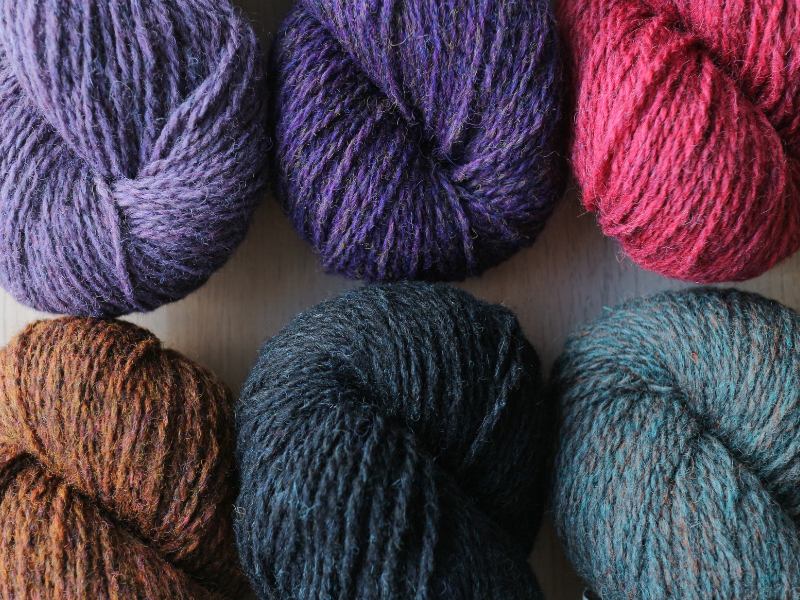 Each colour is vibrant and multitonal; dyed in the wool to create these glorious heathered shades.
Spiritual is a dusky lilac with hints of warm pink and cool grey. It pairs beautifully with Majestic which is a rich, regal purple with subtle hints of rust throughout. Passionate is a cranberry colour which leans towards pink more than red. Truth is an unusual deep teal colour which is heathered with a golden brown. The resulting shade has a real heritage look. It sits really well with Courage which is a rusty brown with hints of mustard and burnt orange. Bold is almost black blended with subtle flecks of deep blue.
Colourwork in Lore
To celebrate the launch of these new colours, we have spent some time swatching them up. Lore is extremely well-suited to colourwork, so we chose three designs from our Borrowdale collection that allow us to play with colour: High Raise, Langstrath and Greenup Gill.
High Raise by Emma Wright in Borrowdale
We wanted to offer a bolder take on the original colourways used in High Raise, so chose to pair Bold with Passionate. This gives the swatch a stronger, more graphic look.
Langstrath by Amanda Jones in Borrowdale
Langstrath is an unusual sweater because the original sample uses low contrast colourways to create subtle, blended colourwork. In our new swatch, we chose pretty purples and pink (Spiritual, Majestic and Passionate) to create a similarly tonal feel with an entirely different colour story.
Greenup Gill by Sarah Hatton in Borrowdale
Truth and Courage pair so beautifully together that we couldn't resist using them in this swatch for Greenup Gill. The colours have a lower contrast together than the original but work perfectly for textural stripes like this.
---
The patterns featured in this blog post are from our 21-piece collection called Borrowdale. You can learn more about Borrowdale and purchase the patterns on Ravelry.
If you'd like to find your local Lore stockist, all of the information you need is in this PDF.