In today's city guide, we are sitting down with Deanna Guttman who is the owner of Needles in the Hay, a beautiful yarn shop in Peterborough, Ontario. In this blog post, Deanna shows us around her store and shares some excellent places for crafters to visit whilst they're in town.
Needles in the Hay was founded in 2010 and taken over by Deanna six years later. In this lovely little yarn shop, you will find high-quality natural fibres in a myriad of beautiful colours. They work hard to bring their customers the best selections of excellent yarns at a variety of price points. Deanna has a special passion for wool, but you will also find alpaca, silk, linen and more.
Every Tuesday evening from 7-9pm, they host their Purlez-Vous knitting social, which is a wonderful opportunity to spend time with fellow fibre arts enthusiasts. This is an open house where anyone is welcome to drop in and knit or crochet with Deanna. If you prefer to visit during the day, you can Sit 'n Knit with Grace on Wednesday afternoons from 2-4pm.
Needles in the Hay has one of the largest selections of The Fibre Co. yarn in the whole of Canada, stocking Tundra, Cumbria, Lore, Acadia, Arranmore Light, Luma, Road to China Light, Cumbria Fingering and Meadow. They also have a fantastic online yarn shop for those of you who struggle to get your hands on our yarn in person.
Once you have finished your yarn shopping, here are Deanna's recommendations of top places to visit in Peterborough if you love craft.
5 Places to Visit in Peterborough, Ontario
Best Local Museum
It doesn't look like much on the outside, but Deanna tells us that the Canadian Canoe Museum is a wonder on the inside! It is a unique national heritage centre that explores the canoe's enduring significance to the people of Canada. They're an engaging, family-friendly museum with an exceptional collection of canoes, kayaks and paddled watercraft on display.
Favourite Place to Grab a Drink
If yarn shopping leaves you feeling thirsty, Deanna recommends two amazing establishments on the same block as Needles in the Hay.
Le Petit Bar is a wine bar with a warm European feel. Owner Shannon Mak has curated a tight selection of wines and custom cocktails that are absolutely delicious. This is a great place for a drink and some cheese and charcuterie.
St. Veronus is a self-described Belgian beer temple and more of a lunch and dinner spot. It has a massive beer list and a pretty long scotch list, too. The space is cosy and inviting with lots of comfort food on offer. Deanna highly recommends the Moules et Frites!
If coffee is more your thing, Deanna suggests heading to Cork and Bean, which is just around the corner from them on George Street. They have delicious espresso-based drinks, pastries and sandwiches to go.
Ideal Place to Sit and Eat a Picnic
Millenium Park is only a few short blocks away from Needles in the Hay. Nestled beside the Otonabee River, it's a great place to have a stroll. If you didn't bring your own picnic, the Silver Bean Cafe has healthy options and a fantastic deck right by the waterfront. You can even rent a canoe or paddle board if it strikes your fancy!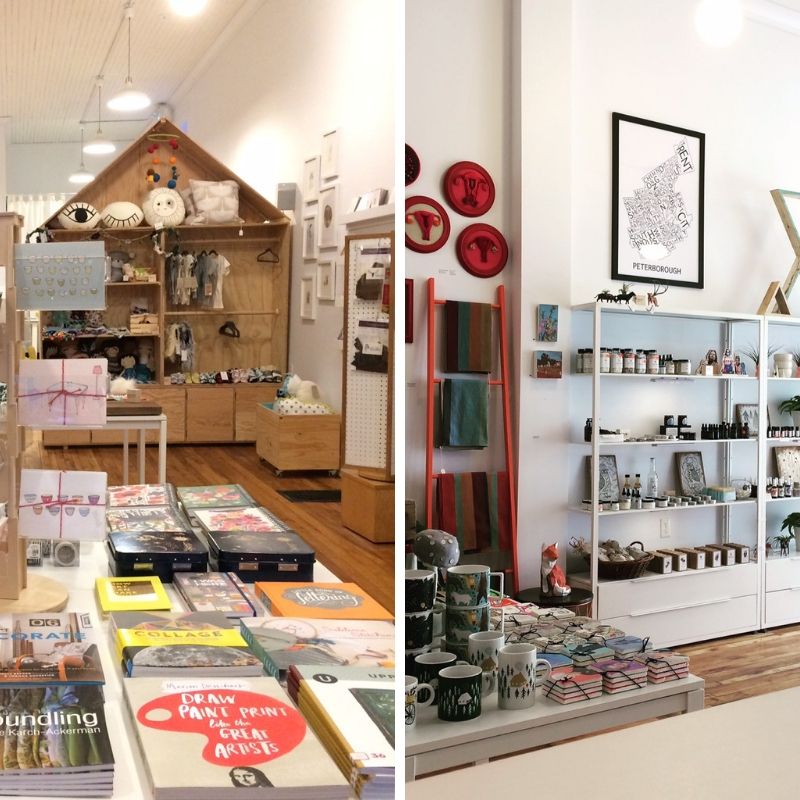 Not-to-be-missed Local Retailer
Next door to Needles in the Hay, you will find Watson & Lou. They are a creative hub that helps local artists and makers reach a wider audience through their carefully curated selection of handmade goods for the home.
A Local Knitting Business
Local dyer, Marit Munson, is the brains and talent behind Gobsmacked's colour-changing gradient cakes! Sometimes Deanna has inventory in the shop, but it doesn't tend to last. Appointments to visit Marit's studio can be made on request.
Bonus Recommendation for Chocolate Lovers
Who doesn't like chocolate? Right around the corner from Needles in the Hay is Naked Chocolate. Deanna tells us that their handmade truffles are to die for! She also suggests that you try one of their single origin chocolate bars.
Deanna's Advice for Visitors to Peterborough, Ontario
"The thing that people love most about Peterborough is our small town urban setting amongst some of the best natural spaces Ontario has to offer," says Deanna. "Peterborough is in the heart of Kawartha Cottage Country and only a 15-minute drive will have you knitting to your heart's content beside one of our many lakes and rivers. Take a drive to Lakefield or Stoney Lake and take in some of the natural scenery. There are many public beaches to take advantage of."
Thank you, Deanna, for giving us a tour of Needles in the Hay as well as suggesting some fantastic places to visit in Peterborough. We hope you will pop by this beautiful yarn shop when you are next in town!
Photo's of Needles in the Hay taken by photographer: Amy Leclaire