If you're heading to Threlkeld for
our Open House
on Saturday 16th November, we thought you might like to know about a few of our favourite places nearby. There are also a couple of other events that are happening on the same day so we hope that these ideas will help you to make the most of your trip.
1. Castlerigg Stone Circle
It's hard to predict the weather in November but, just in case it's one of those crisp and bright late Autumn days, this local landmark is well worth a visit. Not only is
Castlerigg
one of the most atmospheric places in north Cumbria but the views south into St John's in the Vale are wonderful. And you might even share your visit with a few local sheep – only in England would such a historic location also be well grazed by livestock!
2. The Wool Clip
Many of our regular customers will know about Woolfest, the original British festival of wool that takes place every June just a few miles along the A66 from us at Cockermouth. The event is organised by members of a Cumbrian co-operative of designers, makers and wool growers called
The Wool Clip
and they have a gorgeous shop of the same name by a river in Caldbeck, about 15 minutes drive from Threlkeld. It's a great place for British handspun yarn, for creative kits and for finished woollen goods as well as a chance to meet one of the members and have a chat. Open 11am to 4pm every day.
3. The Makers' Mill at Keswick
This lovely studio, gallery and workshop opened in the centre of Keswick in August and it already has a great reputation for local design and craft.
The Makers' Mill
is a wonderful shopping spot with Keswick Brewery just nearby and there's a porcelain workshop running on Sunday 17 November if you're around for the whole weekend. Have a look on the website for opening hours and further details.
4. Soulands Studio and de Fenzi Movement
Our good friend Karen Douglas de Fenzi (see our recent
Hanna Somatics blog post
) is hosting a day at Soulands Studio near Penrith on the same day as our Open House. There's a
drop-in session
for anyone interested in Hanna Somatics from 9am to 10.30am and then
bookable one-to-one sessions
for the rest of the day. This approach to movement is highly recommended by our Founder, Daphne, and the venue, Soulands Studio is at Dacre, just off the A66 from Penrith as you head towards Threlkeld.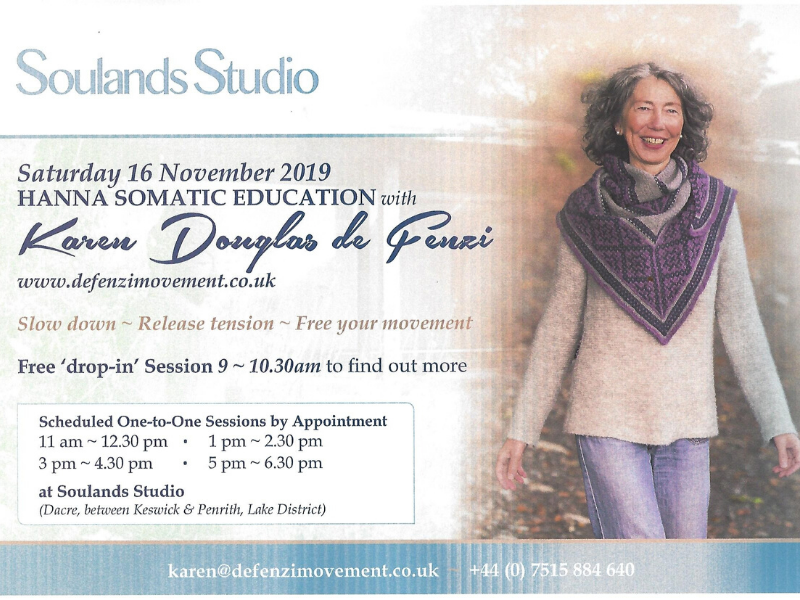 5. Cumbria Life Christmas at Rheged
This
lovely annual event
celebrates all manner of small businesses and creativity ahead of Christmas and is a great way to tackle your seasonal shopping. As well as featuring over 50 exhibitors in a Christmas Marketplace, there are also workshops and talks across both the Saturday and Sunday so it's worth planning ahead for your visit. Rheged is just off Junction 40 of the A66 at Penrith so you'll pass it as you head for us at Threlkeld if you're coming from the M6 motorway.
Open House at The Fibre Co.
On Saturday 16th November 2019, we're opening our doors to the public for the first time and hosting an Open House at The Fibre Co. HQ in Threlkeld, Cumbria.
Drop-in and meet some of the team while you shop our full range of yarn including some end-of-run sale items. There will be plenty of inspiring samples for you to view and try on, too.
We'll have patterns available for purchase as well as notions and wool wash from our friends at Cocoknits and Eucalan. We know that yarn shopping is thirsty work, so we will be serving light refreshments. Parking is available at the venue.
No ticket is necessary, however, please RSVP to let us know that you're coming – just click the 'going' button on our Facebook event or email [email protected]. All who RSVP will receive a goodie bag on the day.
We hope to see you there!