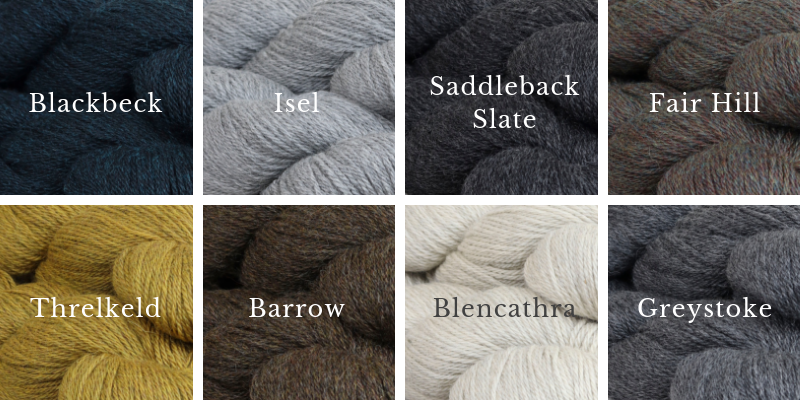 If you're anything like us, you dream of owning a wardrobe full of handknits that you can reach for over and over again. When you put in the hours of knitting a sweater, you want it to last even when you've worn it to death.
That's exactly why we created Cumbria.
Cumbria is a classic worsted weight yarn, spun from a blend of Merino, Masham and Mohair. It has a large colour palette of saturated colours, inspired by the lakes and hills around our HQ. This season, we have added eight new heathered shades to the mix, bringing us to a total of 24 beautiful shades to choose from.

Cumbria was developed to celebrate our founder Daphne's move to England. Her love of long walks across sheep-grazed fells and valleys encouraged her to search for a new blend of fibres that would create sturdy handmades to withstand the adventures she liked to go on.
Blending is a central part of Daphne's yarn development process, resulting in new possibilities for creating fabric and developing colour. English Masham is blended with fine Argentinian Mohair for strength, lustre and cosy warmth. South American Merino is added to the mix to give the final yarn the softness and beautiful hand that defines The Fibre Co. yarns. Each fibre is of the highest quality and responsibly sourced with your handmade wardrobe in mind.
Our colour palette for Cumbria was developed to be evocative of the mood, light and places that characterise the North West of England. Initially, we only used the brown wool from the Masham to create the deep, saturated colours in our palette, but as we introduced cream and our new heathered shades, we now use the natural ecru Masham in Cumbria too.
By respecting the natural characteristics that each fibre brings to the final yarn, the colours in our Cumbria range have a lot of depth. This is down to the different ways in which each fibre takes on colour.
What is it like to work with Cumbria?
Cumbria lends itself to so many styles of knitting, whether it's cables, colourwork or lace. It crochets beautifully too. The stitch definition is outstanding, so your stitches really pop, yet there is a soft and subtle halo that comes from the Mohair.
Blocking transforms the fabric, melting the stitches together evenly and hiding any imperfections. This makes stranded colourwork a breeze! You will find that the fabric becomes softer and even more lustrous after wet-blocking.
Don't be afraid of blocking lace projects aggressively – Cumbria can handle it. It holds its block really well, even after the stitches have relaxed.[vc_btn title="Buy Cumbria Yarn" color="info" align="center" link="url:http%3A%2F%2Fthefibreco.com%2Fproduct%2Fcumbria%2F|title:Buy%20Cumbria|target:%20_blank|"]
Your Go-To Workhorse Yarn
Cumbria is not only wonderful to knit with, but it is extremely durable too. It's the kind of yarn that can be frogged and re-knit several times without too much trouble. And once you've finished your sweater, you can trust that it will stay in great shape for a long time.
Cumbria is certainly on the luxury end of the spectrum when it comes to woolly wools. It has all the strength, structure and durability that you'd want from a workhorse yarn without any of the toothiness.
It's soft, but not in the same way as a 100% merino. It has character. Most makers are able to wear it against their skin, however, those with very sensitive skin might detect a prickle. In those cases, we would suggest wearing a base layer underneath.
One Sweater Kits
Try Cumbria for yourself in our brand new One Sweater kit. One Sweater is a classic pullover for any gender, available in 13 sizes from infant to adult. The pattern includes an in-depth video series. This will walk you through every step of the pattern, so it is excellent for first-time sweater knitters.
What Beta Knitters of One Sweater have said about Cumbria
Ahead of the release of our One Sweater pattern, we gifted One Sweater kits to a group of Beta Knitters so that they could try the pattern and the yarn for themselves. Here is what some of them had to say about working with Cumbria…
"The yarn was gorgeous in texture and colour which made for a therapeutic experience every time I picked it up." – Nidhi
"This was my first experience working with Cumbria and I can't overstate how much I enjoy this yarn. I will definitely be knitting more children's sweaters (and maybe a few adult ones as well!) in the future. It's just such a lovely, durable blend that shows off the vibrant colors in the Cumbria palette." – Samantha
"The yarn was also an absolute dream to knit with – the perfect combination of lightweight and soft, but also strong and substantial!" – Darren
Find Your Local Stockist of Cumbria
You can purchase Cumbria through a stockist of The Fibre Co. If you're having trouble finding a local stockist, get in touch with us and we will help you to find what you need.
---
Free Knitting Pattern
Get a Ravelry coupon to choose 1 of 5 free knitting patterns when you sign up to our newsletter.
You will also receive weekly emails on your favourite yarns, brand new pattern releases and exclusive offers we don't share anywhere else.