For people all across the making community, May is the month they celebrate their handmade wardrobes, both big and small, as part of Me-Made-May.
As enthusiastic knitters, we joined the conversation this month by sharing some of our favourite pieces from our own handmade wardrobes.
To mark the final day of the month, we have a lovely blog post written by Alex Collins, who manages our social media. She will be sharing how she added some colour to her primarily neutral wardrobe with her gorgeous new Bassenfell Shawl. Thanks, Alex!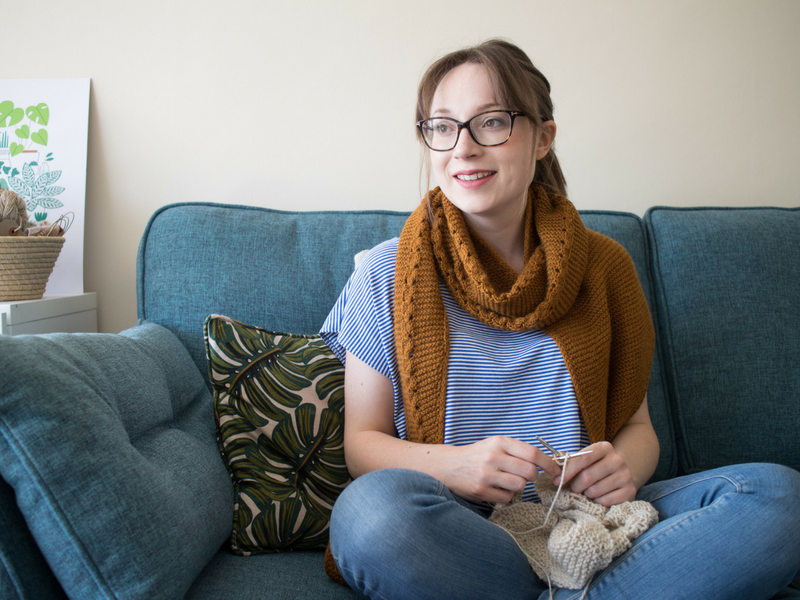 Alex wears the Grainline Studio Hemlock Tee with her Bassenfell Shawl
The Key to a Successful Handmade Wardrobe
As I said in my Me-Made-May blog post last year, building a handmade wardrobe is something I'm really proud of. Through trial and error, I found that the key to creating a wardrobe of pieces I could wear with confidence is knitting and sewing the ready-to-wear items I was already buying.
Having Fun with Colour
Many of the pieces I've added to my handmade wardrobe over the last year have been staple pieces in neutral colours and classic shapes. For this reason, I wanted to have some fun with colour when I picked out the yarn for the Bassenfell shawl I just knitted from our Fell Garth II collection.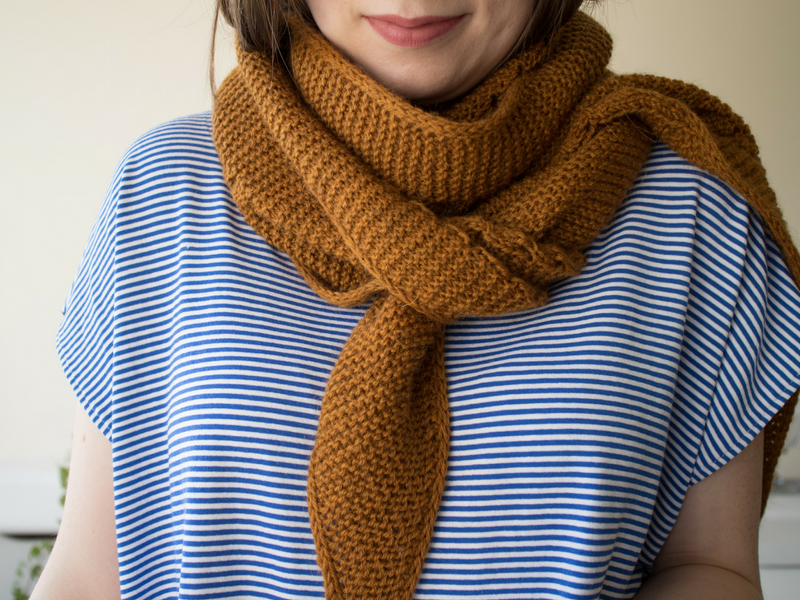 Nutkin is a beautiful, rich, autumnal shade that will brighten my mood throughout the Winter months. It has such a warmth to it and I know it will pop against the navy boiled wool Berlin Jacket I made last Autumn.
Knitting the Bassenfell Shawl
Bassenfell by Clare Devine is an asymmetric garter stitch shawl worked from tip to tip with three columns of textured cluster stitches. Once you've worked the cluster stitches a few times I found it to be the perfect meditative knit with just enough going on to keep my interest as the rows grow longer.
The elongated triangular shape makes Bassenfell a fun accessory to style as you can play around with how you wrap, drape or tie the points to create different shapes depending on your outfit.
Our Merino, Masham and Mohair blend yarn, Cumbria Fingering, blocks beautifully and gives Bassenfell a really pleasing drape and lustre. The neat, clean edging and points give Bassenfell quite a graphic quality. It's not at all fussy which I like, but the textured stitches do make a statement against the simple garter background.