We understand that it can sometimes be difficult to envision how a design might look on you based on the pattern photos. If it's not in your size or in a colour you dislike, it can be hard to look past that.
That's one of the reasons we have started working with beta knitters. Since 2018, we've selected a talented group of beta knitters to knit our new collections ahead of their release. We gift each maker the yarn in the colour of their choice, and in return, they give us their feedback, share photos of their projects and help us to spread the word.
We had such a lovely group for Foundations AW19/20. Their colour choices, modifications and styling made each project so special. In this article, we are sharing photos of some of their finished projects as well as their tips and feedback on the new patterns. We hope it helps you to decide whether the designs are right for you.
Ullock
Tania
Size: 86-91 cm (34-36 in)
Yarn: Tundra in Silverwolf
Hello, my name is Tania, a Portuguese knitter currently living in Germany. I love knitting garments, especially sweaters and cardigans. What I most like about the Ullock cardigan is the beautiful simple lace pattern, the boxy fit and the dropped shoulder construction, which I think makes it suitable for anyone. I also really enjoyed knitting with Tundra, a yarn that was new to me, and makes this an incredibly soft cardigan to wear – this will definitely become a staple piece in my fall wardrobe.
Marceline
Size: 86-91 cm (34-36″)
Yarn: Tundra in Peat
My name is Marceline aka @heybrownberry. I live in South Florida but I love woolly wools! The things I enjoyed most about knitting Ullock were the yarn itself (so squishy and soft) as well as the simple construction of the cardigan.  I knit this sweater for myself and it became an immediate wardrobe staple. The drape makes it very comfortable over my shirt or a dress. My tips for those wanting to knit this sweater: decide first if you want it more fitted or oversized, and also try crochet for a stable seam on the shoulders.
Luuanne
Size: 76-81 cm (30-32 in)
Yarn: Tundra in Larch
I'm Luuanne, and this is my Ullock Cardigan. It was an absolute joy to knit this cardigan, and I think everyone will enjoy it just as much as I did. The pattern was easy for me to modify to match my row gauge. If your row gauge does not match, be sure to calculate the best number of stitches to pick up for the sleeves and the cardigan band. Additionally, pick up one more hank of Tundra.
Dubwath
Georgette
Yarn: Cumbria in Threlkeld
Hi, my name is Georgette, aka @bxgirlknits on Instagram. Unless you are a native New Yorker like me, the bx stands for The Bronx. So I'm Bronx Girl knits. I knit everywhere I go, including on my commute to and from work. This cowl was knit on my 3 week summer holiday through Italy. I cast on just before I got on the plane. When I arrived back in New York, I had a finished cowl. I love this pattern! It was so easy. If you want to learn cabling this is a great beginner knit because of the simplicity of the cables. The only modification I made to the pattern was the tubular cast-on and cast-off. I love the rolled edges of the cast-on/off. I think it adds a little extra something to the cowl.
Julie
Yarn: Cumbria in Greystoke
My name is Julie (@JNLankford), and I am a knitter located in Texas. I've been honored to get to knit this lovely pattern by Inese Sang in The Fibre Co.'s amazing Cumbria yarn. It's as strong as it is beautiful and cozy. Truly this yarn is the epitome of squishy, autumnal yarn. It's soft, yet sheepy. I am already excited about more fall knits in this gorgeous yarn! This pattern that I have knit (without modifications) is truly a classic staple piece for any wardrobe. I enjoyed the rhythm of the pattern, but was never bored. The pattern engages the knitter, and each repeat brings a warm cozy feel as you start to see the development of something beautiful. Grab a cup of tea and be ready for a quietly engaging and quick knit in yarn that will keep you warm and cozy as the leaves begin to fall and the weather cools.
Alexandra
Yarn: Cumbria in Blencathra
My name is Alexandra S., I am a French knitter enjoying life and yarn in Canada. I really enjoyed knitting this cowl. The pattern has enough work to keep the knit interesting, and at the same time, it is simple enough to be memorized. My boyfriend loved this cowl so much that he claimed it halfway through the knit!
Daniela
Yarn: Cumbria in Isel
Hola! My name is Daniela. I'm originally from Costa Rica, but now I live in the U.S. where I work as a Crime Victim Advocate. When I'm not knitting, I like to cook, make cocktails, and foster dogs. I loved knitting this cowl because the pattern is really easy to memorize. The yarn was a dream to work with: it's soft, cozy, and has great stitch definition. I didn't make any modifications. The cowl is really warm and comforting; I'm sure it will become one of most-worn knits once autumn comes.
Wythop
Fran
Size: 76-81 cm (30-32 in)
Yarn: Acadia in Mountain Ash
Hi, I'm Francesca (@fran.made) from Puglia, the heel of Italy's boot. I chose this pattern because I kinda hated bobbles and I wanted to give them a second chance. Well, I did the right thing. Since I've discovered knitting backwards, bobbles and I are best friends! The pattern is well written and I didn't make any mods, the fit is absolutely perfect and it was a pleasure to knit with Acadia yarn, even during the heat!
Tomomi
Size: 97-102 cm (38-40 in)
Yarn: Acadia in Driftwood
Here is my Wythop sweater! The sweater has lovely small bobbles in the yoke. The pattern is clear and easy to follow the instructions. The yarn I used is Acadia yarn of The Fibre.co and the colour is Driftwood. It's so gorgeous and soft. I totally love the combination with Wythop and  Acadia yarn!
Lord's Seat
DonDrea
Size: 56-61 cm (22-24 in)
Yarn: Cumbria in Derwentwater
My name is DonDrea Esnault, Picsella on Ravelry and Instagram, from Michigan, USA. The Lord's Seat is a great pattern filled with texture and flowing movement. And the fibers of Cumbria are luxurious and a delight to work with. I am obsessed with the deep majestic color way of Derwentwater. I knitted the large size with no modifications. Can't wait to wear my new favorite hat this fall!!
Darren
Size: 51-56 cm (20-22 in)
Yarn: Cumbria in Castlerigg
I'm Darren (darrenkc14 on Instagram and Ravelry) a knitter from Toronto Canada. Lord's Seat was so lovely to knit up with such an intuitive and beautiful pattern. The Cumbria yarn was especially nice to knit this project with and will definitely be a cozy hat for Canadian winters. I followed the medium size instructions but knit on US8s to make for a size closer to the large but with a drapier fabric as I found there wasn't quite enough slouch with the suggested gauge. Otherwise, this was a quick and lovely knit and a perfect travel project!
Allison
Size: 56-61 cm (22-24 in)
Yarn: Cumbria in Scafell Pike
I'm Allison (fieldwonderful on Instagram and Ravelry) from Kentucky, USA. I fill my days with taking care of my two sons and editing, and I try to always squeeze in some knitting. This was my first time working with Cumbria, and I love its squish and drape!
Manda
Size: 51-56 cm (20-22 in)
Yarn: Cumbria in Eden Valley
I'm Manda Tai-Yu Lee from Taiwan, @manda.with.knits on Instagram and mandafreesia on Ravelry. Lord's Seat Beanie designed by Inese Sang is a fun pattern to work with. Definitely you'll want to let the twisted cables lead you to the top of Lord's Seat in the English Lake District! The Cumbria yarn is also remarkable. Squishy and airy, it makes the knitwear easy to pack while keeping you stylish. Eden valley, the colourway I chose, is a mysterious green with a hint of blue, which matches my dark hair perfectly.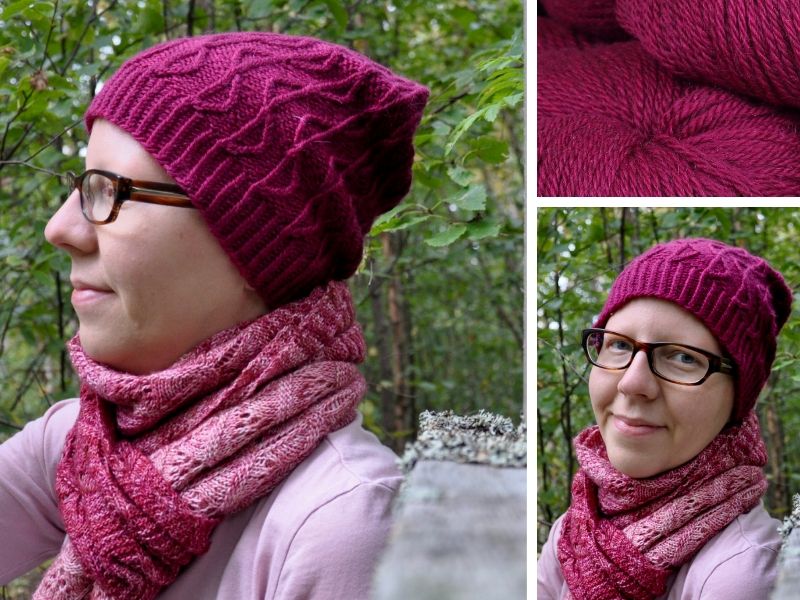 Minna
Size: 51-56 cm (20-22 in)
Yarn: Cumbria in Cowberry
I'm Minna (finfrost on Instagram and Ravelry). I live in Northern Finland, where I can wear my hand knits all year round. Lord's Seat was a joy to knit. I made size M. The pattern is intuitive and the cable twists kept it interesting all the way. I think I might add a pompom. I was very impressed with Cumbria yarn. It's soft, but still has structure, and the colour (Cowberry) is rich and beautiful.
Therese
Size: 51-56 cm (20-22 in)
Yarn: Cumbria in Greystoke
My name is Therese (@esther___black on Instagram) and I'm from Sweden. I found the lifting and shifting of stitches in this pattern very fun to do and I absolutely loved the Cumbria yarn. I knitted this hat in size M but could probably go down a size and still be ok with the circumference if I wanted a less slouchy hat.
Get any Foundations AW19/20 pattern free!
All of our Foundations AW19/20 patterns are available, free of charge, when you purchase the yarn to knit it from one of our stockists. If you're having trouble finding a local stockist, get in touch with us and we will help you to find what you need.