Sarah Hatton is known the world over for her beautiful knitwear designs. Her work has featured in numerous books and publications having spent over 20 years working in the knitwear industry. 
Sarah's first project with The Fibre Co. was in 2017 as part of our Fell Garth II series, designing two beautiful patterns, the Ravenstone sweater and Threlkeld cardigan, both in Arranmore Light. Since then Sarah has designed countless patterns in The Fibre Co. yarns, and we are thrilled to have her design our first pattern release in The Almanac Series, Cherry Bark. We are always delighted to have the opportunity to work with Sarah and we took this chance to ask a few questions.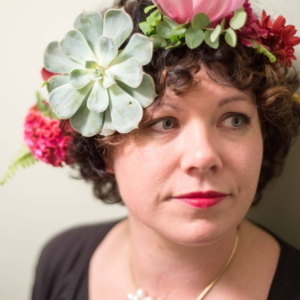 Could you tell us a bit about yourself: how did you get into knitting and designing knitwear?
SH: I grew up in a very crafty family and then went on to get a BA Hons Fashion from Bretton Hall College (now the West Yorkshire Sculpture park). I was sponsored in part by Sirdar and the collection included several handknit pieces so I was super excited to go on to work as a designer for Sirdar and Sublime. I have worked for several of the larger knitting pattern producers as well as self publish and work as a technical consultant.
The Almanac Series is based on the original farmer's Almanac guide to the seasons, this collection acts as a seasonal guide to knitting with The Fibre Co. and celebrates each month of the year with an ascribed Yarn of the Month, paired with a new design launch in that yarn. This year's series has a theme of herbalism. In the first half of this year's series, we cover the Autumn Winter season, where each month's yarn has been specifically chosen for its qualities to compliment colder conditions in the northern hemisphere.  Cherry Bark was launched this September.

Cherry Bark is a classic slipover knit in our wonderfully full yarn Arranmore Light. The design features a textured stitch pattern across the back and comes with two neck options. The first option is a wide crew neck with a front texture panel shown in the shade Brannagh (above) and the second option is a roll neck with a plain stocking stitch front, in this pattern in shade St. Claire (shown below).
Tell us about Cherry Bark—what inspired this design and what makes it special to you?
 SH: I wanted to create a really wearable layering piece that could become a wardrobe staple. I love the simplicity of the twist stitch/cable pattern travelling up from the hem rib and wanted to play with pattern placement as the stitch was really simple but super effective in the yarn.
What inspires and influences your designs?
SH: When I am designing I always try to balance creating a really wearable flattering piece with the process. As knitters we find pleasure in both so I think its really important as a designer to consider both as equally important.
What is your favourite type of knitting project?
SH: I am really drawn to cables and textured knits – there is so much that can be achieved with just knits and purls.
If you are knitting a Cherry Bark, please do share it with us! We would love to see it. If you are sharing on social media, please use the hashtags #MadeWithTheFibreCo and tag us @thefibrecompany so we don't miss it!
If you are as much of a fan of Sarah's work as we are, keep an eye out for our next collaboration, coming out October 7th!