Join us on an incredible crochet adventure with Lee Satori, the talented designer behind the Wild Child Cardy, as we explore the timeless beauty of the granny square!
Lee Satori of CoCo Crochet Lee certainly has a passion for crochet! Her commitment and skill have taken her on an exciting journey that has included successes as an Etsy store owner, Assistant Editor of a crochet magazine, and publishing her own books.
In this interview, we'll dive deeper into Lee's story as a proud mom, explore the inspiration behind the stunning Wild Child Cardy design and discover how she used color combinations to bring this unique piece to life.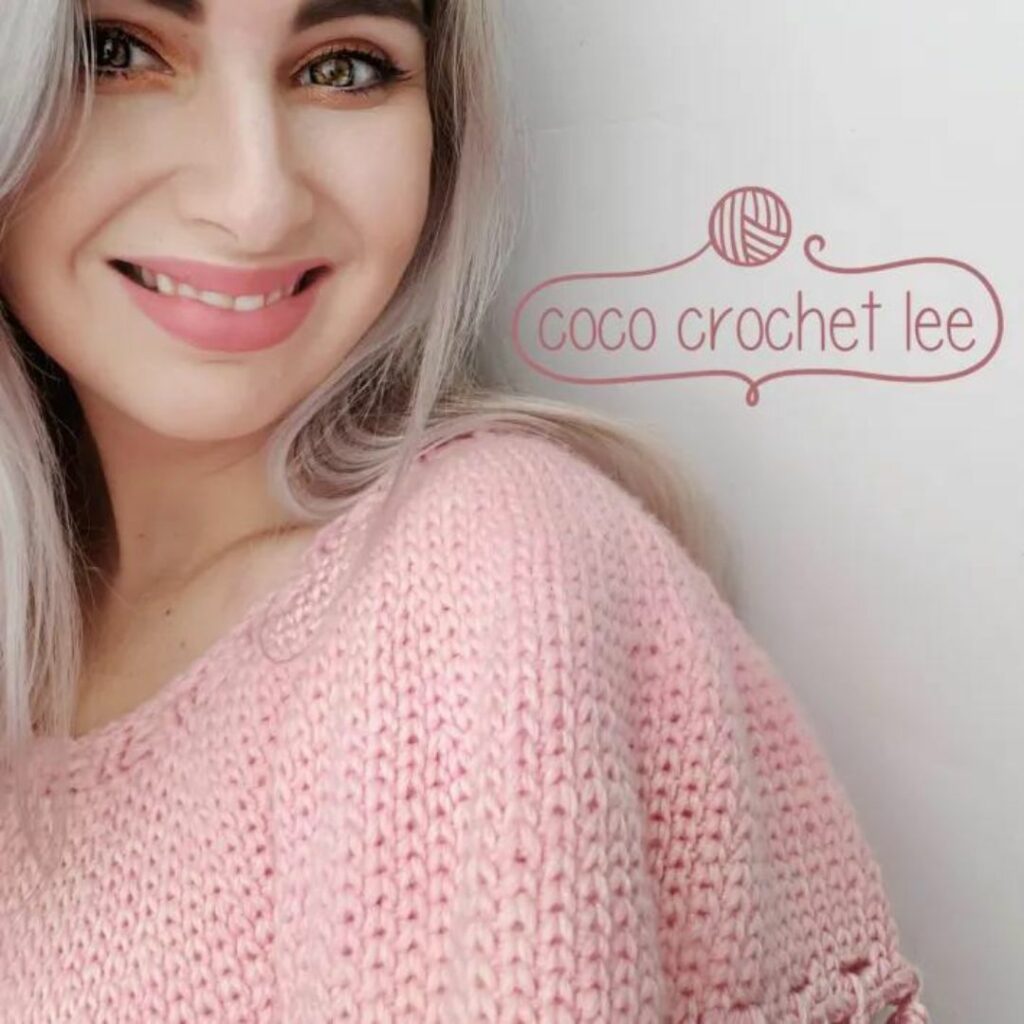 Could you tell us a bit about yourself: how did you get into crochet and designing??
"Hello! I'm Lee from CoCo Crochet Lee. I began crocheting when my first baby was born. I had been attending University for Visual Arts and working on large oil paintings and chalk drawings, but with a new baby, I needed a pastime that was a bit easier to pack away. I took a crochet class and learned to crochet, and I loved it!
I started off by making items for friends and family, and then progressed to selling my items and designs on Etsy. I then applied and landed a job working in an entry-level position for a crochet magazine. After a few years of learning and creating, I became the Assistant Editor of the magazine, and also began working for Annie's Craft Company, appearing on their PBS Television Show for 3 years as a Crochet Expert.
My journey lead me to more design opportunities including writing my first crochet book called A Modern Guide to Textured Crochet in 2020, followed shortly after by Harry Potter Crochet Wizardry in 2021. I now have two additional titles released, Pokemon Crochet Volume 2 and Friends: The One With Crochet. It has been extremely fulfilling, and fun!"
Tell us about your recent design in The Fibre Co. yarn—what inspired this design and what techniques, makes it special to you?
"The Wild Child Cardy is such a special project for me! I absolutely love playing with colour, and the opportunity to work with Amble Yarn for this design really sparked the light-hearted feeling behind this cardigan. The Wild Child Cardigan really captures the vibrant life of the Spring Season, where new blooms and beautiful sunrises bring so much joy after a long winter.
Creating garments using individual squares is so enjoyable to me because it presents the opportunity to play around more with geometric designs. They allow you to work with round shapes, as well as linear ones and combine them in new and fun ways."
What inspires and influences your designs? 
"I think a lot of time it is colour that influences my designs the most. Certain colours or colour combinations can really bring a design to life and set the tone. I also love to design things that I myself would enjoy using so my designs are really a reflection of my personality."
What is your favourite type of crochet project?
"My favourite type of crochet project is anything that has that bit of 'wow!' factor to it. I love making things that are a bit different. I also love a challenge. For me, it's not really about loving garments over blankets or amigurumi over homeware, it's more about the idea behind the design and if it is fun and challenging."
Could you share your design process with us.
"I usually start with the yarn and what colours and textures I have to work with. I suppose I look at it like starting a painting. A watercolour painting can have a very different feel to it than an oil painting. I treat yarn that way, like a medium to play around with. From there I go to texture and how it would look and feel in a sweater vs a blanket, etc."
How does the yarn you use influence your design?
"I am a big fan of the functionality of yarn. If I am going to cuddle a blanket, I want it to be squishy and warm so I will stay away from thinner yarns. Alternately, I would rather wear a garment made with a fingering weight yarn over something really bulky."
What is your favourite crochet technique and why?
"I absolutely love crocheting cables and I really need to use them more. They are just so fun to make and create such an amazing fabric."
What is your desert island crochet project—what could you make again and again and still enjoy
"I've actually thought about this before, and I would have to cheat and say I would choose knitting! I would absolutely love to knit socks over and over, and I rarely get the chance to do so. It would be so fun!"
What is your first crochet memory?
"My first crochet memory is of a blanket that my Nannie (grandmother) made for me when I was a kid. It was a white blanket with hearts on it but one of the squares had a big pocket. My Nannie wrote instructions on how to fold the blanket in such a way that you could tuck it into the big pocket and the blanket would become a pillow. I thought she was a wizard, and I wish I still had that blanket. She is an amazing crocheter and made tons of lovely things!"
About By Hook II
Featuring six playful pieces inspired by joyous dressing and the fun and spontaneity of the season. For sunshine-filled days, the chosen palette of Amble, Meadow and Luma yarns is designed to boost the mood and get creative juices flowing. Soft pastel tones clash with brights for a bold, contemporary look, while natural fibres and relaxed silhouettes make this a wonderfully wearable collection abounding with carefree style.
These patterns are perfect for crocheters looking to try something new, and knitters who haven't dabbled in the craft before. Say yes to a crochet adventure this summer, and colour yourself happy with yarn.
Featuring designs by Alexandra Tavel, Amber Millard, Cassie Ward, Lee Sartori, Lucy Djevdet and Rebecca Dagmar.
Knitting the Wild Child Cardy?
If you are knitting the Wild Child cardy, please do share it with us!
We would love to see it. If you are sharing on social media, please use the hashtags #MadeWithTheFibreCo and tag us @thefibrecompany so we don't miss it. You can also follow us on social media by clicking the icons below.