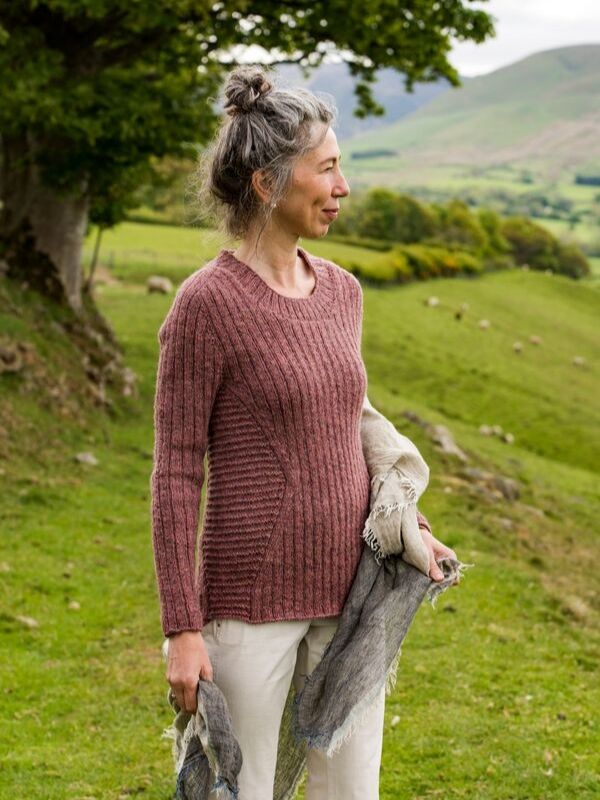 Makers tend to feel a strong sense of empowerment from their crafts. Whether you knit or crochet, seeing all of those tiny stitches come together to make something beautiful can feel like you have superpowers!
Many makers experience repetitive strain injuries and muscle pain that make it uncomfortable or even prevent them from working on their creative practices. Unfortunately, the speedy, repetitive movements that come with knitting and crochet can place stress on the muscles resulting in tightness and tension, sometimes without realising it – bad news for someone who is otherwise empowered by their craft! Daphne, our founder, has been trying various forms of bodywork for years to help with pain related to the highly physical work she used to do, back when we had a fibre mill.
In 2016, Daphne met Karen Douglas de Fenzi, a Hanna Somatic Educator based in the Lake District close to our HQ and trained at The Novato Institute in California. You might recognise her as a model from some of our photoshoots too!
Hanna Somatics gives you personal freedom through movement. Karen is an exceptional teacher and teaches you how to release muscular tension whenever you need to, safely and gently. The movements are very small and slow to provide you with increased awareness and ability to interpret your internal sensations more accurately. As you supply new sensory information, through movement, gradually releasing neuromuscular tension, the brain can remember the feeling of how to relax and move the muscles properly, without discomfort.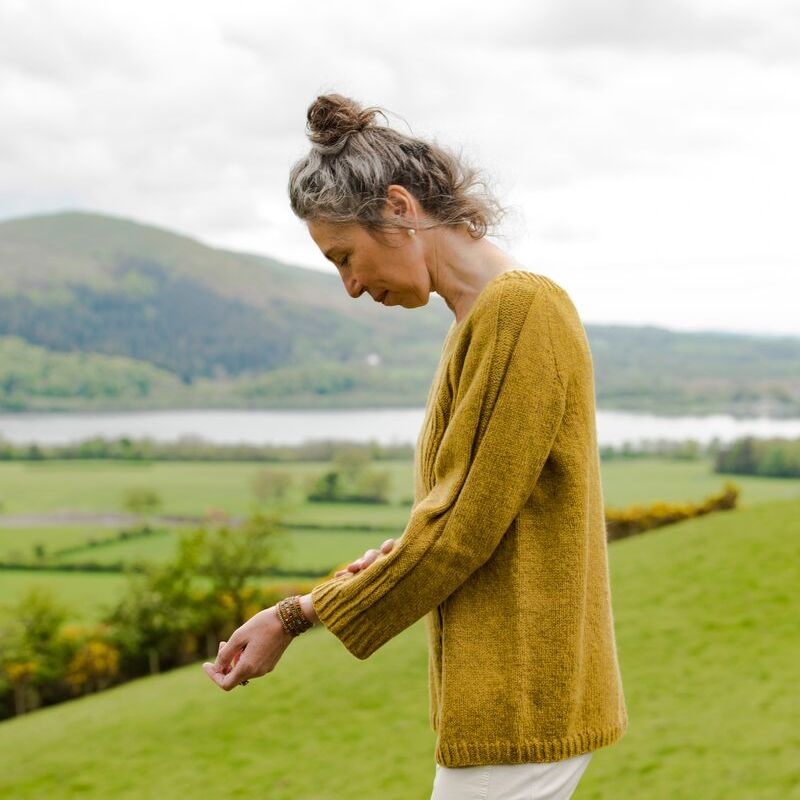 After a few sessions, Daphne found it to be the best form of self-awareness and release that she has ever experienced and been
able to maintain consistently in her life.
Not only does Hanna Somatics teach you how to use your body to live a more comfortable, pain-free life, it also reawakens your brain and empowers you to self-correct once you have learned and become familiar with the movements. It is experiential learning and it will last a lifetime if you give your brain a brief reminder of the movements every so often.
After feeling the benefits of being able to release muscle tension on her own with the movements, Daphne realised how beneficial it would be for our office staff to experience it too. And so, over the past two years, Karen has been visiting our HQ to teach weekly movement sessions. On Fridays, we clear the decks and get down on the floor to relieve the muscle tension that comes with working in an office.
Hanna Somatics can be practiced successfully to re-balance your functioning systems, including the muscles on which knitting can place stress. Look out for Karen's "Releasing Tension from Your Life Through Movement" workshops coming up in 2020!
If you would like to try Hanna Somatics for yourself this Autumn, Karen is running an Immersive Residential Weekend Workshop from Friday 1st until Monday 4th November 2019 in England's Lake District. For more details, visit de Fenzi Movement's website.