Amanda Jones' designs have graced the pages of most of the UK's craft magazines for many years and we have been lucky enough to work with her in the past.  Her Langstrath sweater is a perennial favourite of ours.  For our The Almanac Series this year she has created an enchanting wrap that features a gorgeous array of patterns and geometry.
Amanda's Knitting Journey
Let's find out more about Amanda and what inspires her. "I have been knitting forever. I grew up watching my mother knit jumpers for my brothers and myself and I just wanted to be able to knit too," she told us. "I went to art college and did a degree in fashion and textiles, majoring in knitwear. I started designing for yarn companies and magazines way back in the 1980`s and have been working ever since."
"Recently I have slowed right down and just do a few designs a year while also working in A Yarn Story, a wonderful yarn shop in Bath, a couple of days a week. This enables me to see what wonderful yarns are available and has also introduced me to The Fibre Co."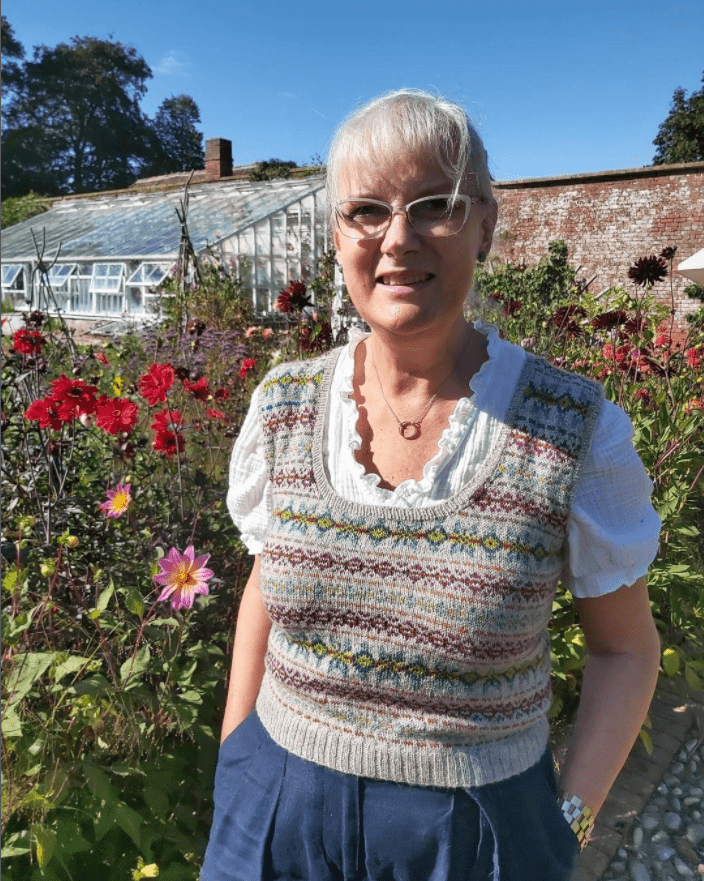 Design Process
"The design process for me always starts with the yarn in my hand. As soon as I get to work with it, I can start doing little stitch samples, this is the part I love. Some yarns just call out for an intricate stitch work pattern as you know that the stitch definition will be great – like Canopy Fingering."
"A few years ago, I came across the Japanese stitch books. Japanese knitting is so intricate and very technical, I loved the challenges of having only a chart to work from and no English words to help out! The results are incredible, the combination of lace and texture all in one fine stitch is amazing."
Mullein
When Amanda saw the design brief she immediately thought of the majestic mullein plants that grow in her garden. They have a strong but soft look with small, detailed flowers: "My design needed to incorporate that, so I chose to use the bead stitch using a contrasting colour to represent the small flowers and to add pops of colour between each striped section."
Amanda loves to create designs that keep your interest, essential when making a large wrap: "I feel that working in sections makes the knit grow faster as you are wanting to get to the next part. By using short rows in the striped section, your knitting seems to grow quicker to create a different look and hold your interest. Then by adding lace sections I have softened the whole look to create a vibrant but at the same time calm-looking wrap."
We loved Amanda's Mullein design so much, we have had it made it Amble and Cumbria Fingering too!
Desert Island Knit
And if we cast Amanda away to a desert island, what would she most like to have with her? "Some sheep or alpacas, some nice dye plants so that I could actually create my own yarn, dye it, then knit it. This would keep me busy all day long, I would probably forget to do anything else on the island, but at least I would be warm and my creative mind would be kept going. Maybe I could knit a shelter?"
If you are knitting Mullein please do share it with us! We would love to see it. If you are sharing on social media, please use the hashtags #MadeWithTheFibreCo and tag us @thefibrecompany.