After all that holiday gift making, it's nice to start the year with a quick project for yourself. Here are 10 cosy hat patterns we've been admiring this Winter.
This cabled hat is Lizzy Ten-Hove's first knitting pattern design and it was love at first sight! Worked inside out using Cumbria Fingering, 10% of all pattern proceeds go to The Trevor Project, a non-profit organization dedicated to suicide prevention among LGBTQ+ youth.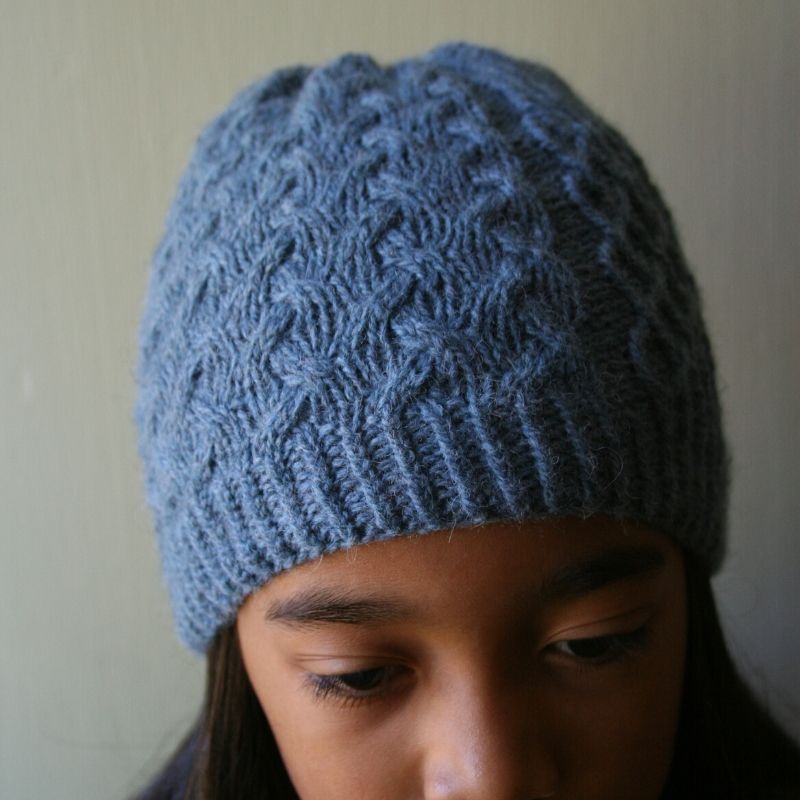 This richly textured hat pattern is the perfect match for our Lore yarn. Maiko Hikosaka uses varying cable stitches to create wavy motifs that symbolise the flow of water. Wear it as pictured or create a fluffy pompom with the leftover yarn!
Simone Bechtold's Rooda Hat pattern offers a lot of options for knitters: two colourwork designs, two lengths and three sizes! There is something for everyone with this pattern. Worked in four shades of Cumbria, you will have enough yarn to make two hats in varying designs and lengths.
Ethan Barclay-Ennew has created the perfect blank canvas to display all of those cool patches you have collected, but are not sure what to do with. Knitted using one skein of Cumbria, this light and warm hat will keep you cosy all Winter.
This crochet hat pattern by Krista Wolf is such a classic. Worked up using a skein of Arranmore Light, it is soft, light and full of texture. We love it in the neutral St. Claire shade pictured, but think it would look equally striking in a bright pop of colour, such as Orla.
Crystal Hiatt's Lydia hat pattern is named after a dear friend. Featuring an all-over lace pattern, it comes with two fit and brim options so you can knit it to your taste. The Lydia hat is available as a kit in our shop, including the pattern and the Cumbria yarn to knit it.
This lace hat will knit up in no time, thanks to our bulky Tundra yarn! Verena Cohrs uses a pretty lace stitch with lots of texture that looks like it would be a lot of fun to knit. Depending on the size you're knitting, you might even have enough yarn leftover to make a pompom!
Following the success of her much-loved Tensho Pullover, Beatrice Perron Dahlen designed this matching hat in the same colourwork motif. Select two high-contrast shades of Cumbria and enjoy this striking project.
Designed as an intro for beginner hat knitters, this bulky hat in Tundra is so simple you'll want to knit several! It knits up in just one skein, so if you've been wanting to try Tundra before, this is a great opportunity to give it a go. Available from The Fibre Co as a kit including; PDF of the Mistake Stitch Rib Hat knitting pattern by Sarah Hatton, 2 hanks of The Fibre Co. Tundra in your choice of available colours and Free Project Bag from The Fibre Co. Shop Kit Now.
Knitted in three shades of Road to China Light, this heavenly soft hat is ideal for brioche beginners. We love the tonal shades used in the original sample, but think it would look equally fantastic in bold blocks of colour.
Free Knitting Pattern
Get a Ravelry coupon to choose 1 of 5 free knitting patterns, including the Chapelfield hat, when you sign up to our newsletter.
You will also receive weekly emails on your favourite yarns, brand new pattern releases and exclusive offers we don't share anywhere else.