Winter knitting is starting to feel increasingly important as frost and our first sprinkling of snow hit headquarters here in Cumbria this week. When it's cold outside, we want nothing more than a hand knit hat to tug down over cold ears and so we're sharing some of our favourite hat designs for women using The Fibre Co. Yarns.
Sprig Cloche– A feminine knitted hat design with botanical details from Alana Dakos of Never Not knitting. This pattern calls for The Fibre Co.'s Acadia.
Robin Hood- This knitted hat design is so feminine and calls for an aran weight yarn. The designer, Grace Akhrem suggests The Fibre Co.'s Terra yarn.
Sappen- This knitted hat design featured in Rachel Brown's Nordlándda collection released last year with The Fibre Co.'s Tundra yarn featured throughout. This is a bulky weight yarn so will knit up fast!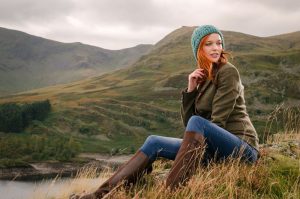 Scorpion Bowl- This worsted weight hat by designer Thea Colman has an extra cute factor with the pom pom finish. Worked up in Canopy Worsted, this is a slouchy hat that has made it onto a few of our gift knitting lists this year already.
The Rosses- A hat designed by Courtney Kelly in Arranmore yarn. If you're looking for something with lots of warmth, look no further than this cabled aran weight hat.
Simple Beret- Here's a pattern written to work in various yarn weights so perfect for that sudden stash acquisition you're not sure what to do with! Designed by Hannah Fettig, this pattern includes the correct gauge option for Canopy Fingering, Canopy Worsted, Acadia and Tundra. A great pattern to use again and again.
If you've got the hat knitting bug, our TFC team member Kimberley has been gathering together a Ravelry bundle of patterns using The Fibre Co. yarns. Kimberley is our community manager over on Ravelry and if you ever need a hat pattern recommendation for our yarns? She'll sort you out in no time.
Don't forget, there's always Pinterest too if you love pinning as much as we do. Why not jump over to see what we're pinning this week?