Celebrate spring with Foundations SS20: a six-piece collection designed by Safiyyah Talley, Clare Devine, Megan Nodecker, Xiaowei Bourdet, Becky Baker and Allison Jane. In it, you will find breezy silhouettes, delicate textures and lots of drape in Canopy Fingering, Road to China Light, Meadow and Luma.
We worked with a fantastic team of beta knitters for SS20, who were gifted the yarn to knit the patterns before anyone else. If you're looking for something special to cast on this Spring, we hope their projects will inspire your choice!

Pattern: Swinside
Size 2: 86-91 cm (34-36 in)
Yarn: Canopy Fingering in Manatee
This pattern was very interesting in its construction. The short rows and modular knitting were interesting, and I had fun seeing the piece come together! Tip: follow the directions, aka just do what what it says – it will work.
Canopy Fingering yarn is a dream to work with – slightly fuzzy yet also smooth, and because of the bamboo, cool to the touch, yet bouncy from the merino. Because of this interesting mix of fibers, it makes a great year-round knit, even during warm summer months.
The final garment is really beautiful. I love the depth of the color, and the drape of the garment is amazing! This would be flattering for all types shapes and sizes, and it's a really flexible sweater; I could wear it layered over something during cooler weather, or wear it alone when it's a bit warmer. So happy to have this wonderful sweater in my wardrobe!
---
Pattern: Hazeldene
Size 3: 97-102 cm (38-40 in)
Yarn: Meadow in Prairie
Hazeldene is a beautiful and versatile addition to my knit wardrobe and I love everything about it. The design is elegant, the pattern excellent, the yarn (Meadow) perfection, and the color (Prairie) an amazing caramel color, more beautiful in person than I could capture in a photo.
Regarding the knitting, there is a lot happening in the yoke but once established and separated for body and sleeves, the knitting is easy and rhythmic. While the pattern is perfect as is, I did make one modification and that was to omit the sleeve decreases for a more relaxed fit and knit a round of decreases just before the cuff. I love the voluminous result.
---
Pattern: Swinside
Size 2: 86-91 cm (34-36 in)
Yarn: Canopy Fingering in Obsidian
I had a very wonderful time to knit this lovely sweater! I have made no modification. The pattern is simple and easy to follow for begginers I guess.
---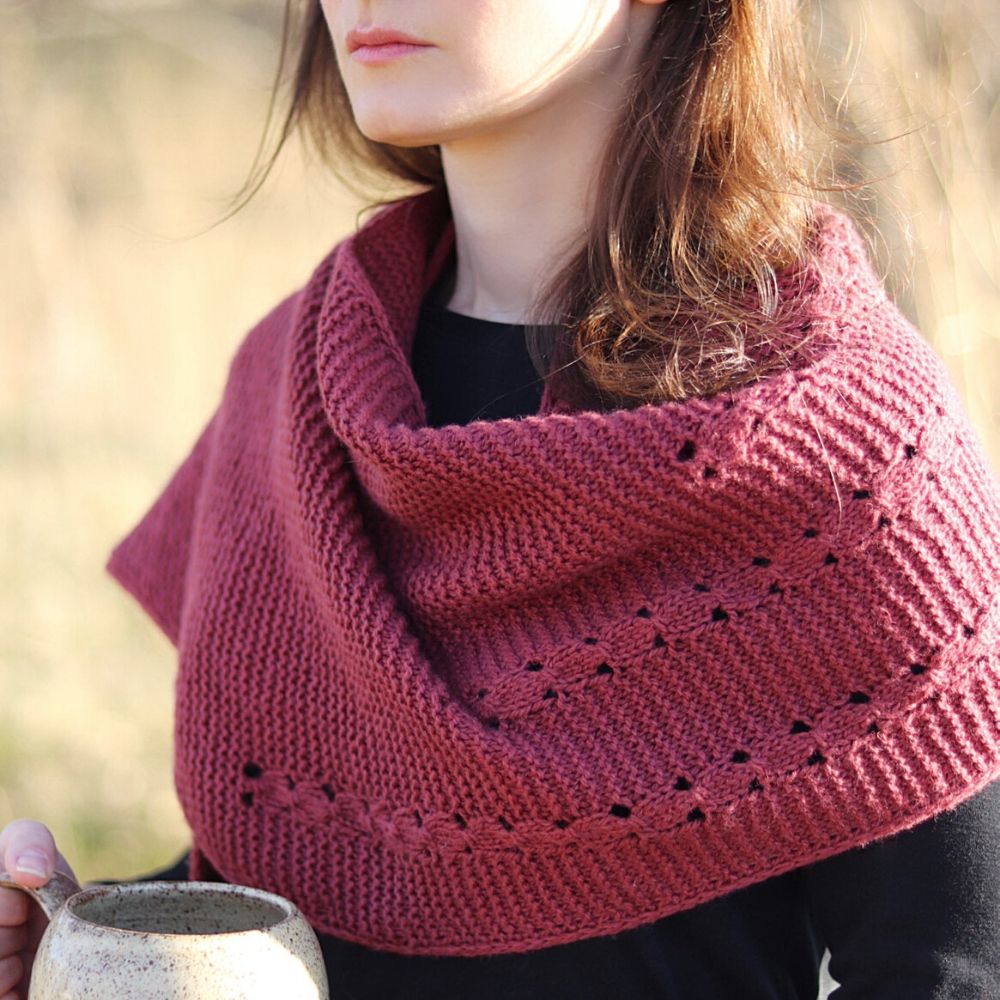 Pattern: Bassenfell
Yarn: Luma in Sherry
It's not very often you'll find me knitting on a project besides socks, but I knew the Bassenfell shawl by Clare Devine would bring joy to my soul from start to finish. This classic shawl checks all the boxes off for a timeless, wearable piece.
I adore the beautiful, geometric shape paired with the gorgeous Fibre Co. Luma yarn. The blend of wool, cotton, linen, and silk makes for a perfect springtime shawl that wears light, but still provides warmth for the early spring chill. Each stitch is wonderfully defined, and the shawl drapes easily around the neck or over the shoulders.
The design itself is intuitive and meditative. Easy enough for an adventurous beginner but engaging enough for an experienced knitter, I highly recommend this pattern to anyone looking for a pleasant and wearable piece.
---
Pattern: Somatic Arc
Size 2: 86-91 cm (34-36 in)
Yarn: Canopy Fingering in River Dolphin
I loved knitting my Somatic Arc. The garter stitch was very relaxing to knit, and the cable motifs added interest to the fabric. The cardigan is great for TV knitting.
I shortened the length of the body. I started the A-line shaping earlier. For the sleeves, I used the German Twisted cast on.
It is recommended to alternate hanks of Canopy Fingering, but I found that alternating hanks after using 75% of one hank and repeating worked fine as well. I did not see any noticeable pooling or striping, and it was less work for me. I attached the next strand after the icord edging stitches of the body.
---
Pattern: Swinside
Size 1: 76-81 cm (30-32 in)
Yarn: Canopy Fingering in Love in a Mist
The yarn was lovely to work with for this project. It was very soft and has a beautiful sheen to it. I had to go up a full needle size to get gauge and then was able to knit the sweater with no issues. The neckband was slightly rolling over so I went back down in needle size for the last two rows so it would sit flat. The finished sweater is flowy, has a nice drape to it and is so comfortable!
---
Pattern: Greenall
Size 5: 117-122 cm (46-48 in)
Yarn: Road to China Light in Emerald
I really love the lace pattern, so I continued it down the body as well. I also slipped the first stitch on every row purlwise with the yarn in front.
---
Pattern: Swinside
Size 2: 86-91 cm (34-36 in)
Yarn: Canopy Fingering in Sarsparilla
Pattern construction is simple but still interesting enough to keep you going with "just one more row" attitude. The yarn ( Canopy fingering) is so soft and fine that you just can't get enough of knitting this beauty. You can easily adapt pattern length to fit your own style without any trouble ( for example – I adapt sleeve length to fit my idea of wearing Swinside). Just make sure that your gauge is correct because this type of yarn does it's own magic after blocking 🙂
---
Pattern: Newlands
Size 3: 97-102 cm (38-40 in)
Yarn: Road to China Light in Amethyst
I absolutely loved knitting the sweater! I stuck to the pattern and made one MOD — I didn't love how the icord bind off looked on the neckline. I did use a smaller needle and I think I knit the lace portion way too tight. Even after I blocked it didn't quite look the way I had hoped and it didn't end up with the low neckline as seen in the picture. I just did a simple bind off.
The yarn is incredibly lush. I first knit with metal needles and struggled as it keep slipping so changed to Lyyke needles which was much better re handling the yarn. So depending on if you are a loose / tight knitter — choosing the 'right' needles may help.
I loved the ease — boxy fit sweater. And I love how I can dress it up or go casual with jeans
I also like the icord cast and bind off as they were new techniques I learned.
---
Pattern: Greenall
Size 1: 76-81 cm (30-32 in)
Yarn: Road to China Light in Red Jasper
An easygoing pattern suitable for beginners. When the body is finished, it's finished! No need to pick up stitches for knitting neck band. Neck band grows up while knitting. I found it may not need so many decreasing round at sleeves. It depends on everyone's unique shape. Trying it on while knitting to find your best fit is the best solution. When steam blocking, remember to stretch the lace eyelets slightly to open up those beautiful eyelets.
One thing worthy of mentioning, the yarn used for Greenall amazes me a lot! The blends of alpaca, silk, camel and cashmere create a luxury creamy touch. Definitely perfect to next to skin. Highly recommend to give it a try.
---
Pattern: Swinside
Size 2: 86-91 cm (34-36 in)
Yarn: Canopy Fingering in Laguna
This was a gorgeous knit and this will make a regular appearance as part of my wardrobe going forward. I have knit with Canopy Fingering before but in a completely different (tighter stitch) gauge so to see the drapiness of this fabric when knit with larger needles really showed me the versatility of this yarn and it will definitely be added to my list of favourite yarns with which to knit.
I modified the number of dropped stitch repeats to suit the length that I wanted, finishing with the garter row section before moving on to the ribbing (I went with a 1×1 ribbing instead of the 2×2 that the pattern indicates — just a personal preference).
All in all, a beautiful knit with a perfectly matched yarn for the design.
---
Thank you to our amazing team of Beta Knitters! We love seeing the ways they personalise the patterns through their colour choices and modifications. We hope it inspires you too.
Foundations SS20 Kits
If you'd like to knit your own project from our Foundations SS20 collection, we have curated kits that will make it extremely simple for you. Each pattern is paired with the yarn it was designed for, so you can guarantee that the project will have a great result. Kits also come with a handy project bag for you to keep your knitting in. Treat yourself to something lovely to knit and wear this Spring!