When preparing for the launch of our newest yarn, Lore, we asked our design manager, Becky Baker, to design and knit a range of swatches that would show just how versatile it is. The results are very inspiring.
In today's blog post, we introduce you to Becky who will help you to get to know Lore a little better through her swatches, knitting observations and expert knowledge.
Becky Baker's Wool Story
Hi all! I'm Becky, the Design Manager here at The Fibre Co.
I recently moved back to my gorgeous homeland of Scotland with my husband Lewis, where I work for The Fibre Co. and on my own business, Becky Baker Knitwear. It is wonderful to be back in my home country. I love being able to knit in the great outdoors surrounded by such stunning landscapes.
I was introduced to hand knitting at an early age by my grandmother and great aunties, who were all very experienced knitters. Knitting has been in my life ever since.
I studied Fashion Knitwear Design and Knitted Textiles at Nottingham Trent University and have worked for Hugo Boss, Eribe Knitwear, Sophie Steller Knitwear Studio, SPINEXPO and Debenhams.
Through these jobs, I've experienced diverse areas of the knitwear industry, from high-end to small consultancies, high street to traditional, which has given me a variety of skills and knowledge. Knitwear design is my true passion and I always strive to try and combine the traditional aspects of this craft with modern innovations.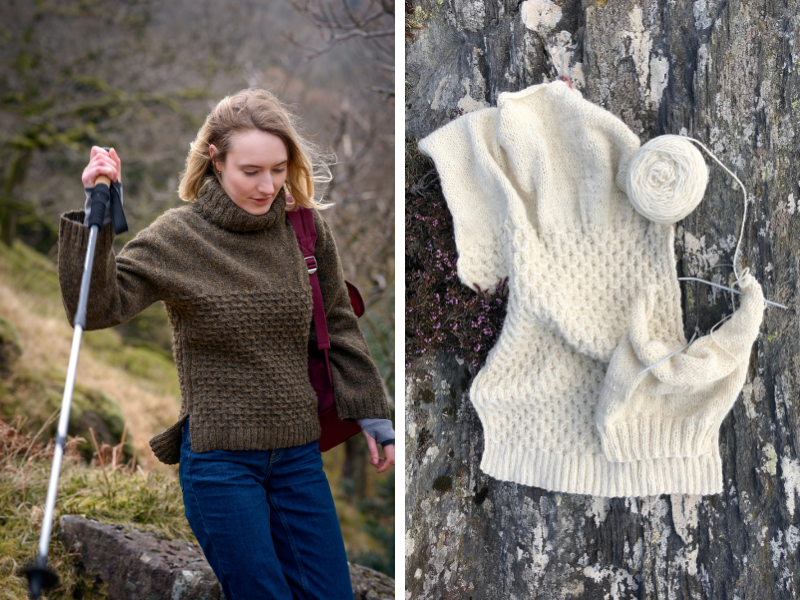 I started my journey with The Fibre Co. last year when I designed Blea Rock in Lore for the Borrowdale collection. I've since taken on the Design Manager role in Spring this year.
The role is extremely varied – I wear lots of hats! It involves design, technical coordination, project management, quality control and some other bits thrown into the mix. For me, it's the perfect role as I love to manage, organise and coordinate tasks but I still want to be creative, design and have the chance to knit.
Get to Know The Fibre Co. Lore
Lore is a woollen spun, DK weight yarn with a beautiful handle and plenty of character. It shows off the crimp of the Romney fibre beautifully.
With this swatch collection, I wanted to showcase the versatility and capabilities of Lore, covering as many techniques as possible.
Lore holds structure so well. I've swatched cables, entrelac and a mix of different textures with great success. Even simple garter stitch looks wonderful. It also looks stunning in Fairisle and colourwork. There are 25 colourways in the line, so there is ample colour choice.
Knitting with The Fibre Co. Lore
I love knitting with 100% wool yarns. I love how traditional they are and the smell is amazing.
Knitting with Lore is a pleasure. It's comfortable in the hands and doesn't slip off the needles. It is happy to withstand some frogging, too, if you happen to make any mistakes.
Lore, like most woollen spun yarns, really blooms after a full soak. It becomes a little softer and evens out beautifully. The best way to block it is to soak it in lukewarm water with a wool soap, gently squeeze and then roll it in a towel to remove excess water. Afterwards, pin it out on blocking mats to your desired measurements. You will see quite a difference once it is dry!
The recommended needle size for Lore is 4mm (US 6), however, I'm a loose knitter. I adjusted my needle size accordingly and knitted these swatches on 3.25mm (US 3). The resulting fabric has a beautiful handle.
Since it is a durable, hard-wearing yarn, Lore is perfect for everyday knits. It is a real all-rounder – suitable for both garments and accessories. It will definitely keep you warm and cosy through the cooler months!
I think it would even be great for interior projects – wouldn't that entrelac swatch look great as a cushion?!
Even though Lore is a "rustic" looking yarn, it is soft to touch and comfortable against the skin. Although, if you are sensitive to wool, a base layer underneath might be better.
I'm really excited about working with Lore again – it is such a gem of a yarn! Our founder, Daphne, has designed some gorgeous colourways and the yarn itself has so much character. My next project in Lore is going to be a big cosy cardigan for the Winter. I can't wait!
Patterns Using The Fibre Co. Lore
If you'd like to knit something special with Lore, we have created an accompanying 21-piece collection called Borrowdale. You can learn more about Borrowdale in our online trunk show and purchase the patterns on Ravelry.
If you're a stockist of Lore, these swatches are available as a trunk show. Email us for more details.
---
Free Knitting Pattern
Get the Chapelfield hat for free when you sign up to our newsletter below.
You will also receive weekly emails on your favourite yarns, brand new pattern releases and exclusive offers we don't share anywhere else.
Quick to knit in just one hank of Lore, you can wear Chapelfield pulled over your ears like Emma and Nick, or fold up the brim to wear it as a watchcap.