We've rounded up six patterns for gifts you can make the knit worthy people in your life this year. Is there anything more special than a handmade gift? We don't think so! There is something here for a range of budgets and skill levels that are sure to be cherished by the lucky recipients. First up is a classic scarf pattern.
1. Atmosphere Scarf
When knitting a gift it helps to think about the persons style and what you see them wearing often. Gifts you can make by hand will be appreciated by someone who doesn't have that skill but if you want your hand knits to be worn and loved, really think about what the person you're knitting for would wear. Many people favor classic styles so a scarf like Atmosphere would make a lovely gift as it's timeless and would look great on almost anyone.
Atmosphere is a recipe style pattern meaning you can adjust the length, width and gauge to fit your own specifications. Originally published in Making Stories Magazine, you can also choose from a number of stitch patterns and edge finishes. The scarf pictured here is knitted in a brioche stitch using Cumbria Fingering in the Catbells colourway.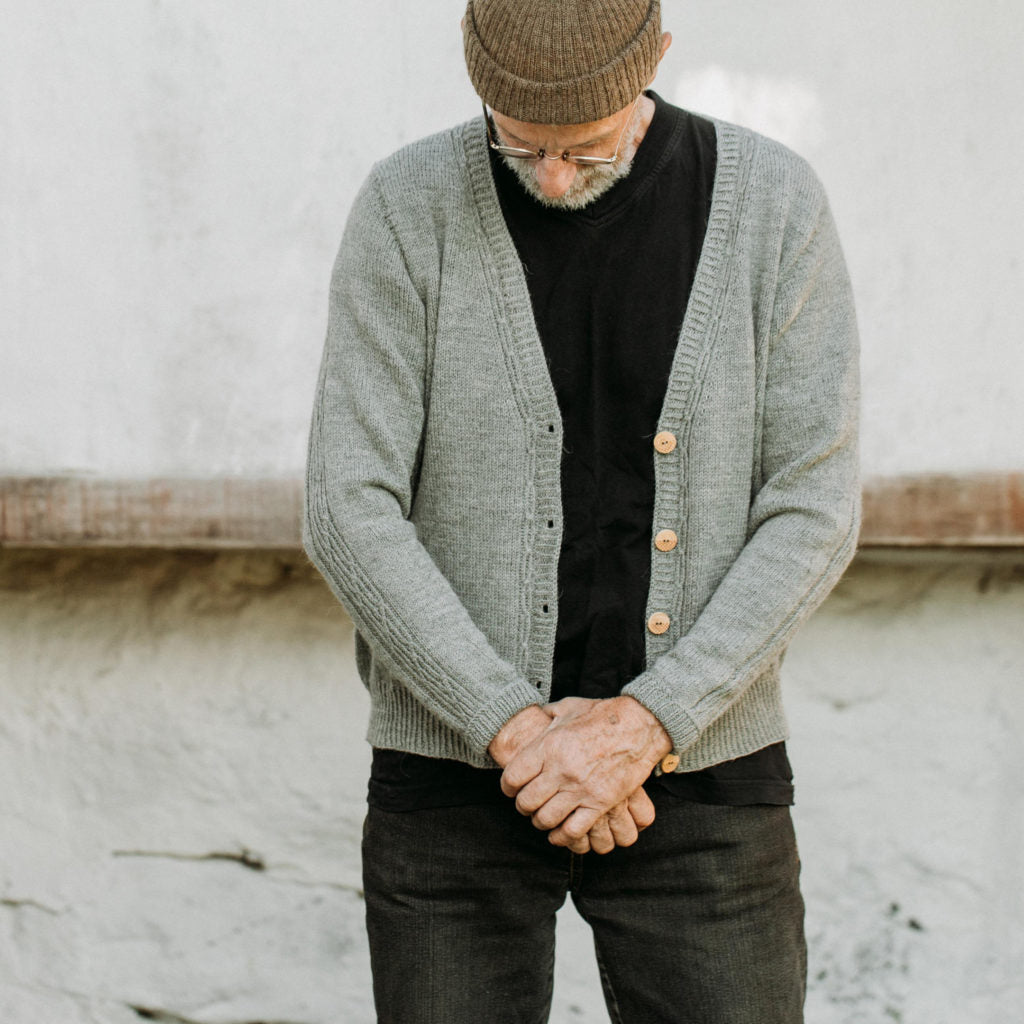 2. Lowther Cardigan
Knitting a garment as a gift is a real labor of love. If you have a cardigan wearing man in your life, Lowther will fit seamlessly into their wardrobe and you'll enjoy the knitting. There are several details in this design to keep things interesting.
Ingemar wears Lowther in Cumbria Fingering but the pattern includes instructions to knit the design in our worsted weight Cumbria yarn too. Choose Cumbria for a faster knit you're more like to finish in time to gift.


3. Chapelfield Hat
Hat's have long been a go to for knitters wanting to gift something handmade. A one skein project is usually quick to knit and when using a woolly wool yarn like Lore you know you're gifting something that's practical too.
Chapelfield is a classic fitted beanie that can also be worn watchcap style by folding up the brim. The mock-cable looks impressive but is easy to knit when you're working to a gift knitting deadline. Instructions are given for three sizes so it's a gift you can make for everyone on your holiday knitting list.
If you're not already signed up to receive our newsletter, you can download this pattern for free, when you join our mailing list. You'll need just one hank of Lore to knit the large size and there are 25 shades to choose from.


4. Honister Shawl
The Honister shawl makes a beautiful gift for a knit worthy loved one using just three hanks of our DK weight lambswool, Lore.
A simple, elegant shawl with swathes of bouncy garter and gorgeous cable details. Made from our lofty Lore yarn, Honister is the ideal gift you can make for those who want to look stylish and keep warm on those crisp, cold mornings.


5. Esk Haus Mitts
Another one skein gift you can make using Lore is the Esk Haus Mitts. They'll keep your knit worthy friends hands toasty and their fingers free whether they're scrolling on their phone or doing something more analogue, like gardening.
The Esk Haus mitts are also available as a knitting kit including the yarn, a code to download the pdf pattern, and a The Fibre Co. bag. Now you can give the gift of knitting to your creative, crafty friends if you don't have time to knit for everyone on your list.
6. One Sweater
If you're knitting for the little ones in your life you'll want a pattern that will grow with them. The simple classic style of our One Sweater pattern looks great on toddlers to teens so you'll be knitting this design for years to come.
Our worsted weight yarn Cumbria comes in 24 shades and is a hard-wearing sweater yarn. The pattern is actually designed for the whole family and includes instructions for children aged 1-2 up to a 64″ chest adult making it a versatile pattern for your collection.
With so many sizes on offer, we've made it really simple to purchase everything you need by selling One Sweater kits.
Free Cable Wristwarmers Pattern
These Cable Wristwarmers are a luxurious gift you can make using one hank of The Fibre Co. Road to China Light, our 65% baby alpaca, 15% silk, 10% camel, 10% cashmere blend yarn. Download the pattern for free when you subscribe to our email newsletter below.
You will also receive weekly emails on your favourite yarns, brand new pattern releases and exclusive offers we don't share anywhere else.
Béatrice Mase is a French designer living in Le Havre with her family. She is a 3D graphic designer by day and dedicated knitting designer
Read More »
The new super cosy autumn cowl, In The Flow, was designed by long-time friend of the Fibre Co. Becky Baker. We caught up with her
Read More »
Sarah Hatton is known the world over for her beautiful knitwear designs. Her work has featured in numerous books and publications having spent over 20
Read More »