Are you looking to knit the perfect pair of socks? Choosing the right yarn is key to making a pair that is both comfortable and durable. Socks come under a lot of wear and tear so a durable fabric is essential after all the work you've put into them.
With so many different yarn options available, it can be hard to know where to start. In this post, we'll be sharing some of the best sock yarns to use for your next project.
What is The Best Yarn Weight for Knitting Socks?
The weight of the yarn you choose can impact the overall feel and fit of your socks. Most specialist sock yarns are classified as fingering weight or sock weight, which typically has a gauge of 7-8 stitches per inch on US size 1-3 needles.
This weight creates a fabric that is both lightweight and durable, making it perfect for socks.
However, you can also use sport weight or DK weight or even worsted weight yarns to create thicker more cosy socks for wearing around the house or for wearing with boots. Worsted weight yarn or bulky weight yarn such as our &Make Super Bulky are great for slipper socks too.
What Makes a Good Sock Yarn?
When it comes to selecting the best yarn for knitting or corcheting socks, durability is key. You want a yarn that can withstand the wear and tear that comes with daily use and avoid felting, pilling or tearing. Additionally, it's important to choose a yarn that has good stitch definition, as this will help showcase the intricate stitch patterns often used in sock knitting.
Fibres with moisture wicking capabilities are important for sock yarns, this means they will absorb or pull the moisture away for your feet making them more comfortable to wear. Natural fibres work well for this.
Socks should be able to stretch and move with your feet so fibres such as wool which has great elasticity are useful when knitting socks.
Yarns produced with environmentally friendly credentials are very important to us here at The Fibre Co. so we're proud to have developed our fingering weight Amble yarn with recycled nylon added for strength as well as super soft alpaca and eco-friendly Easy Wash wool for practicality. We think it's the perfect sock yarn and we're not the only ones!
"The Fibre Co.'s first sock yarn is a real treat! It feels wonderfully soft, and is a lovely choice not only for socks, but also for shawl projects and lightweight sweaters!"
What Does Easy-Wash Mean and Why Do We Use It?
Easy-wash is a trademarked name that refers to a process used to make the wool and alpaca fibres in Amble machine washable without shrinking.
The Easy-wash method is chlorine-free and AOX-free, making it a better environmental choice for producing machine-washable wool. The wool and alpaca fibres are treated with eco-friendly oxidants to remove the scales that ordinarily cause wool and alpaca to shrink when washed by machine.
This means that the Easy-wash treatment does not involve the discharge of hazardous chemicals which can end up in wastewater and have a detrimental impact on tributaries, wildlife, and fauna.
What is Recycled Nylon and Why Do We Use It?
Nylon fibre is not easily biodegradable. However, it has strength qualities that give yarns and the socks made with it more durability.
The recycled nylon used in our Amble sock yarn comes from leftover industrial waste of processing nylon, diverting waste from landfills, and using fewer production resources like water and fossil fuels than virgin nylon.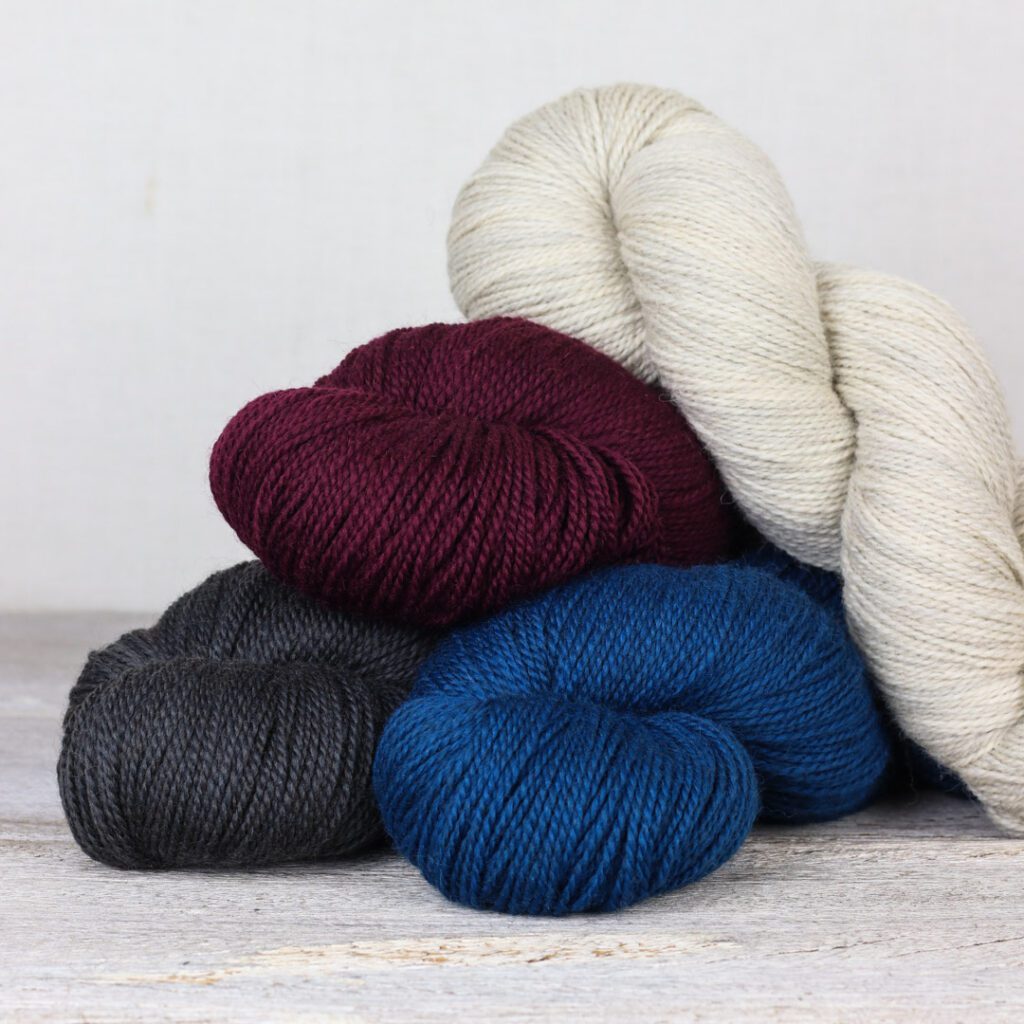 What is The Best Type Of Yarn for Knitting Socks?
Here are some of the best yarn materials to use for knitting socks:
Superwash Wool – Superwash wool is a popular choice for sock knitting as it is durable and can be machine-washed without felting.  It also has good elasticity and moisture-wicking ability, which helps keep feet dry and comfortable. Amble yarn uses Easy Wash wool.
Merino Wool – Merino wool is soft and comfortable against the skin, making it a great choice for sock yarn. It also has good moisture-wicking ability and is breathable, which helps regulate temperature and prevent sweat buildup. Most of our lighter-weight lace and fingering yarns contain merino for the warmth and drape it lends to lightweight projects.
Nylon Blends – Nylon is often blended with wool or other fibres to add strength and durability to sock yarn. It helps prevent the socks from wearing out too quickly and adds some stretch to the fabric. We prefer to use recycled nylon in our yarn to reduce our impact on the environment. Our specialist sock yarn, Amble, contains recycled nylon for strength.
Bamboo – Bamboo yarn is a sustainable option that is soft and silky to the touch. It has good moisture-wicking ability and is naturally antibacterial, which helps prevent odour buildup. Bamboo is a great choice for knitting summer socks.
What is The Softest Sock Yarn?
If you're looking for the softest yarn for socks, consider these options:
Merino Wool – Merino wool is often considered the softest yarn for socks due to its fine fibres and soft texture. Most of our lighter lace weight and fingering weight yarns contain merino for the warmth it adds to lightweight projects.
Alpaca Yarn – Alpaca yarn is incredibly soft and luxurious, but may not be as durable as other sock yarns which is why we spin it with recycled nylon to add strength in our Amble sock yarn.
Cashmere Blends – Cashmere blends provide a soft and warm texture, but can be more expensive than other yarns and are not as durable.
Ultimately, the best yarn for making socks depends on your personal preferences and the specific qualities you are looking for in your sock yarn. It is always a good idea to choose a yarn that is specifically labeled as sock yarn, as it will be designed to hold up well to wear and tear.
In conclusion, choosing the right sock yarn can make all the difference when it comes to creating a comfortable and durable pair of socks. There are plenty of options to choose from. Consider the weight, durability, and softness of the yarn when making your selection. With the right yarn, you'll be on your way to making a perfect pair of socks.
Knitting with Amble?
If you are knitting with Amble, we'd love to know what you think!
If you are sharing on social media, please use the hashtags #MadeWithTheFibreCo and tag us @thefibrecompany so we don't miss it. You can also follow us on social media by clicking the icons below.