As summer beckons with its promise of carefree days and long-anticipated holidays, what better way to unwind than by immersing yourself in a new knit or crochet project while relaxing in the shade?
Whether you're eager to create stylish garments for the warmer season or simply yearn to keep your yarn crafting passion alive during the hotter summer months, thoughtful planning is key.
In this blog post, we'll explore essential considerations to ensure your warm-weather projects align harmoniously with the season, allowing you to revel in the joys of yarn crafting all year round.
What Are the Best Patterns for Warm Weather Knitting and Crochet?
When it comes to choosing ideal knitting and crochet projects for the sunnier seasons, it's best to avoid items that will be heavy and therefore uncomfortable as you work. 
Instead, opt for making some lightweight tops to add to your handmade wardrobe.
Or maybe you need a new summer wrap for cool evenings?
Why not try some hair accessories, like scrunchies or headbands?  
And if you're a sock knitter, this is your season! 
Another idea might be to try a small-scale home décor project.
What about getting a head start on holiday hat-making? 
Finally, consider going on a swatch adventure to explore and develop new skills—they're small portable pint-size projects, perfect for hot weather creating.
If garment making is your thing, then look for summer knitting patterns with loose gauge or lace sections which will allow air to circulate and help keep you cool. Check out the knitting kits for summer tops and tees on our website.
 If you're more into crochet, then our By Hook II collection features everything from crochet cardies and tops to a fun and easy to wear bucket hat that you can crochet on the beach!
Here are a few of our favourite projects for warm weather knitting and crochet:
What Are the Best Yarns for Warm Weather Knitting and Crochet?
Once you decide what you would like to make, then the next step is to choose the best yarn for your summer knitting and crochet project.
What makes a yarn summer friendly?
Things to consider include the weight or thickness of the yarn as well as the fibre content.
For warm weather garments like summer tops and tees, look for yarns that are lightweight and breathable—those with natural fibres and especially blends of plant-based fibres such as cotton and linen.
Wool and other animal hair fibres are not off the table.  In the right blend, weight and twist, lightweight wool and wool blend yarns can be comfortable in the summer due to its natural ability to absorb moisture and create a cooling effect.
Some of our favourite yarns for summer making include:
Amble is a fingering weight yarn featuring a mix of merino and alpaca with the addition of recycled nylon for strength. Originally designed as a sock yarn (which make the perfect small summer project), this soft and durable yarn adds wonderful drape when used for lightweight shawls or summer tops.
A classic DK weight yarn, this beautiful blend of plant fibres, silk and merino is a great addition to your warm weather wardrobe. Cotton adds softness and breathability, linen brings texture and a touch of silk provides a beautiful sheen, making Luma ideal for both garments and accessories.
"Full of light and life, Luma is a glowing blend of wool, cotton, linen and silk, which provides warmth yet is light enough for summery days. It knits up into a fabric with excellent drape and well defined stitches. The expanded colour range includes this vibrant jewel-like shade, and there are plenty of elegant neutrals and softer hues to fall in love with."
This heavy lace weight yarn blends merino with baby llama, silk for sheen and linen to add a subtle crispness to stitch definition. Meadow is ideal for elegant lightweight tops and delicate lace shawls.
One of our newer yarns, &Make DK mixes Highland wool and alpaca with linen to provide a light yarn with exceptional stitch definition, making it perfect for patterns with textured stitches. The fibres pick up dye at different rates showcasing the linen beautifully on more simple stitch patterns too.
Blending some of the most luxurious fibres available this stunning sport weight yarn makes an elegant addition to any piece in your handmade wardrobe. Combining baby alpaca and silk with a kiss of camel and cashmere, this lightweight yarn is beautiful when used for delicate tops and wraps.
And if you're getting a head start on your holiday hat making or going on a swatch adventure (see above), then the whole universe of yarns are available for your summer makes.
As always, we recommend making a gauge swatch before starting your project to ensure that the yarn you've chosen works well with your pattern and gauge. Check out our blog post on knitting an accurate gauge swatch.
Following these tips will help you select the best yarns for your summer projects, ensuring that you're comfortable and happy with the finished result.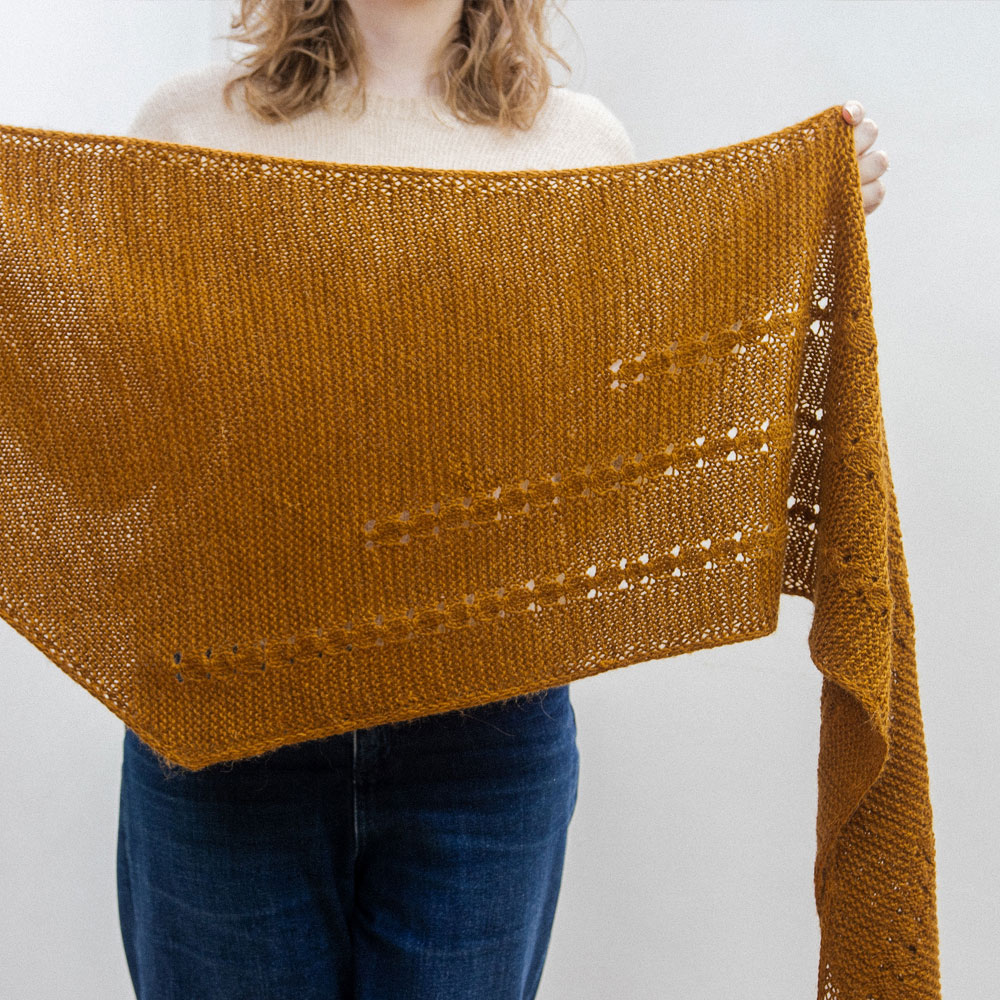 Knitting a Warm Weather Project with The Fibre Co. Yarns?
If you are knitting with The Fibre Co. yarns, we'd love to know what you think!
If you are sharing on social media, please use the hashtags #MadeWithTheFibreCo and tag us @thefibrecompany so we don't miss it. You can also follow us on social media by clicking the icons below.